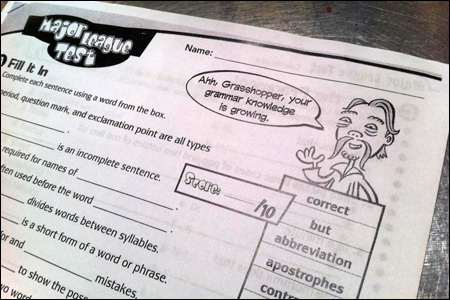 Even in the best of schools - Learn of the not-so-subtle racism of the Fu Manchu, Grasshopper.
On lingering racism -- in cartoon form! -- in a supposedly progressive elementary school.
Whitewashing, a history
: Aasif Mandvi does his best imitation of a Hollywood studio executive, explaining the movie industry's illustrious tradition of casting white actors in non-white roles.
San Gabriel Valley Goes Viral: the Fung Bros Rep the 626
Oliver Wang, a 626 native, on how the Fung Brothers' rap homage to the "Boba Life" suddenly made his hometown cool.
Vegetable State of Mind
:
The New Yorker
briefly profiles Los Angeles rebel chef Roy Choi, who recently announced that he had quit eating meat, a decision that might lead him to give up cooking altogether.
Uchiko's Paul Qui nabs the James Beard Award: Another Austin win
:
Top Chef
winner Paul Qui of Uchiko in Austin recently won the prestigious 2012 James Beard Award for Best Chef: Southwest.
Bullseye: Googler Chris Cheng Wins 'Top Shot' Reality Show Competition
: Chris Cheng, a project manager at Google, also happens to be an expert-level marksman, and recently took home the grand prize on the History Channel's sharpshooting reality show competition
Top Shot
.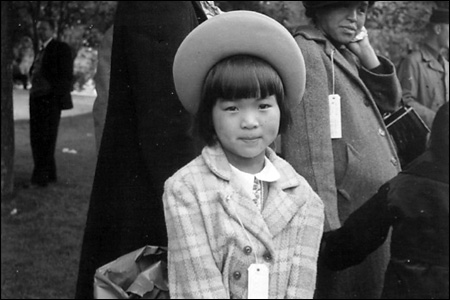 Photos illustrate effects of WWII internment camps
: Photos of former Japanese American internees appear in a then-and-now exhibition, "They Wore Their Best: The Japanese American Evacuation and After," running now through the end of the month at the BART Station in San Bruno, California.
Politics: How Jay Chen Thinks He Can Get to D.C.
Hyphen
interviews Jay Chen, Democratic candidate for Congress in California's 39th District.
Democrats Betting On Blong Xiong in California
If elected this November, Fresno city councilman Blong Xiong would make history as the first Hmong American in Congress.
The AAPI Experience from One Older Woman's Perspective
Japanese American Frances E. Francis began legal studies fifty years ago. Now a lawyer and serving on Obama's AAPI Advisory Commission, she writes the strides for Japanese Americans that she's witnessed.
Inspiring the Next Generation of AAPI Public Servants
Special Advisor to the U.S. Secretary of Education Don Yu tells the inspirational story of his father, who emigrated from South Korea in 1961.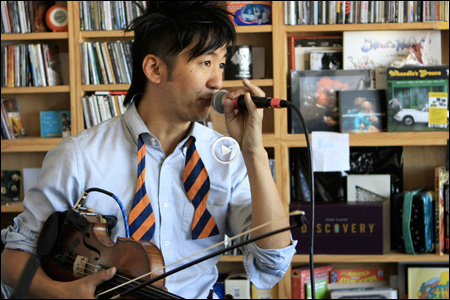 Kishi Bashi: Tiny Desk Concert
Awesome performance by Kishi Bashi, who mixes violin loops, singing, and beatboxing to make absolute magic.
Don't Stop Believin': An Interview with Filmmaker Ramona Diaz

The director speaks about her latest project,
Don't Stop Believin': Everyman's Journey
, a documentary about Filipino-born Arnel Pineda, Journey's current lead singer.
9 Mother's Day Gift Ideas Your Mom Won't Hate
: Hey, slackers. Gumship's got your last-minute gift suggestions for your momma on this special day.
Kim Ng unfazed in quest to become GM
Meet Kim Ng, who wants to be the GM of Major League Baseball, which would make her the first female general manager in the history of American professional sports.
Even a PhD Couldn't Keep This Man Off Food Stamps
As a child, Tony Yu recalls his family applying for food stamps. Now an adult and holding a PhD in History, Yu finds himself on welfare once again.