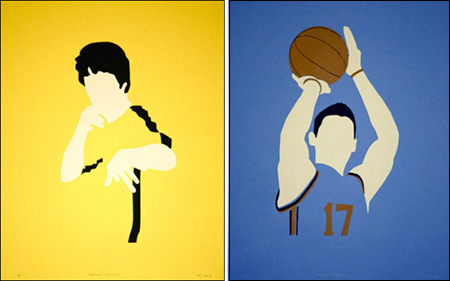 Posters Celebrate Asian American Masculinity, From George Takei to Jeremy Lin
: Deborah Enrile Lao's poster series, "Manhood," features five awesome dudes and challenges the portrayal of Asian American men in Western media. Also, it looks really freaking cool.
An Open Letter to Manny Pacquiao From a Gay Filipina American
: Laurel Fantauzzo reacts to Pacquiao's recent remarks against gay marriage.
Why I, An Asian Man, Fight Anti-Black Racism
: Scot Nakagawa explains why he focuses on anti-black racism in his work.
Minorities? Try 'people of color'
: Rinku Sen, President and Executive Director of the Applied Research Center and publisher of Colorlines.com, on rethinking "minority" and embracing the phrase "people of color."
Are Asian Americans really for the end of affirmative action?
The answer is no.
APA Investigates: How Is Daniel Henney So Hot?
Ada Tseng of Asia Pacific Arts brings you some hard-hitting journalism, asking the tough questions about the hotness of Daniel Henney, star of
Shanghai Calling
.
Opening Night Gala - LA Asian Pacific Film Festival
: Stephen and Patrick of National Film Society cover Opening Night of the Los Angeles Asian Pacific Film Festival and catch a glimpse of Harry Shum Jr.'s back.
Steve Byrne Gets Personal on 'Sullivan & Son'
: An interview with comedian Steve Byrne, whose sitcom
Sullivan & Son
premieres this summer.
Yul Kwon, From Bullying Target To Reality TV Star
: Yul Kwon is buff, cool, and nice as hell. How being a bullying target and the lack of representation on TV made him join
Survivor
and change the course of his life.
Don't Freak Out About the White Babies
: Jay Smooth helps America adjust to the news that for the first time in history, a majority of American babies born in the last year were minorities.
Château Sucker
: This is a fascinating
New York
magazine piece on accused wine counterfeiter Rudy Kurniawan, who was caught pulling one of the biggest hoaxes in the history of the wine collecting world.
Study of the Day: There's a 'Bamboo Ceiling' for Would-Be Asian Leaders
: New research suggests that assertive Asian-Americans may be penalized for not adhering to racial stereotypes that peg them more as meek followers.
Energy Secretary Reviews Avengers on Facebook, Sees Promise of Green Energy in Hollywood Movie
: Secretary of Energy Steven Chu, a recipient of the Nobel Prize of Physics, recently took to Facebook to review
The Avengers
, and compared movie's fictional "Tesseract" energy source to the real-life promise of green energy.
Making Faces in the Subway, Using Paper and Scissors
: Wait for a train at NYC's Union Station and have Ming Liang Lu make an intricate cutout portrait of your face.
A Champion Of Judo
: ESPN profiles 92-year-old San Jose State judo coach Yoshihiro Uchida, whose team recently won its 45th National Collegiate Judo Championship.
Tiny Hand Over Hand
: Holy crap. Ashima Shiraishi has stunned the bouldering world by successfully climbing some of the most difficult rocks. And she's eleven years old.
Why I Ride #15: To EmPOWer All Riders
: How Helen Ho, who describes her younger self as a "fat Asian kid with coke bottle glasses," became the founder of POW! People on Wheels, an organization that advocates for diverse representation in the cycling community.
WWII: Japanese-Americans in San Diego
: As part of its series on the legacy of World War II,
U-T San Diego
examines the war's devastating impact on the local Japanese American community.