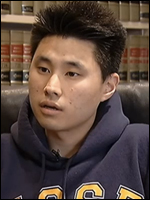 This story is friggin' crazy... In San Diego, a student says he was taken into custody by Drug Enforcement Administration officers and abandoned in a holding cell for nearly five days without food and water.
Student abandoned in DEA holding cell drank own urine to survive
.
24-year-old Daniel Chong, a student at UC San Diego, was smoking marijuana (4/20, you know) at a friend's apartment when DEA agents showed up. He was taken into custody and thrown into 5 foot by 10 foot holding cell, where he was basically forgotten for five days.
Things got so bad, Chong drank his own urine, tried to take his own life, and ended up snorting a powdery substance he found inside the cell -- which turned out to be methamphetamine.
On April 21, Drug Enforcement Agents raided an apartment where Chong and his friends were smoking marijuana. Nine people were arrested and the agents reportedly seized ecstasy pills, marijuana, prescription medication, psychedelic mushrooms and weapons, according to CBS 8 News. Seven of those arrested were taken to jail and one was released.

Chong, however, was left handcuffed in a 5 ft. by 10 ft. holding cell.

Chong said he screamed and kicked the door, but to no avail. Eventually, he began hallucinating and drank his own urine in hopes of staying hydrated. After days without any human contact, he tried to kill himself by breaking his glasses with his teeth, and using the glass to cut himself.

Surprisingly, Chong allegedly found a bag of methamphetamine in the holding cell, which he used to stay awake.

Well, somebody screwed up. Chong hasn't received an apology from the DEA, nor has he been charged with any crime. He sounds kind of like a dopey stoner, but he definitely didn't deserve this kind of horrifying treatment. According to Chong's lawyer, he plans to file a claim in federal court.
More here:
DEA Ignored All My Cries: Student
.
UPDATE: Daniel Chong has filed a $20 million claim against the Drug Enforcement Administration:
Student Left in Cell for 4 Days Files $20 Million Claim
. He has also described some of the super-crazy hallucinations he had during his detention:
Student left in cell 4 days recalls hallucinations
. Damn. Downright inhumane. If you ask me, he deserves every penny of that twenty million.