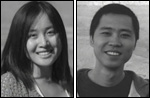 On Friday, the Los Angeles Police Department announced the arrest of two suspects in the fatal shooting of two University of Southern California graduate students that made international news last month.
2 are held in slayings of USC grad students
.
20-year-old Bryan Barnes and 19-year-old Javier Bolden were arrested in connection to the murders of Ying Wu and Ming Qu, 23-year-old graduate students from China. The two were murdered April 11 while sitting in a car about a mile from campus.
Beck offered few details about the arrests. But police sources, who requested anonymity because they were not authorized to speak publicly about the ongoing investigation, said Barnes was the suspected gunman in the April 11 slaying of electronic engineering students Ming Qu and Ying Wu, both 23.

Bolden was believed to have been present when the students were gunned down during a suspected robbery while sitting in Qu's parked BMW in the 2700 block of Raymond Avenue, the sources said.

The suspects were being held without bail and were expected to be booked on suspicion of murder late Friday. They are scheduled to be arraigned Tuesday.

Based on forensic evidence, including shell casings recovered at the scene of the shooting, authorities were able to connect the suspects to the same gun used in two other attempted murders. They were also able to track a stolen cell phone signal More here:
Slain USC student's cellphone signal led to suspected killers
.
Barnes and Bolden are scheduled to be arraigned this week. Meanwhile, the families of both Ying Wu and Ming Qu have filed a wrongful death suit against the University of Southern California, alleging that the school made false claims about safety:
Parents of Slain USC Students File Wrongful Death Lawsuit
.