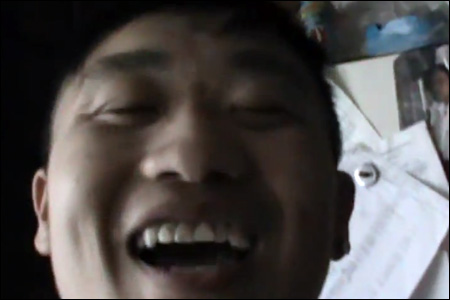 Asians behaving badly... stupid self-incriminating camera thief edition! A few weeks ago in Milwaukee, a particularly dumb thief stole a camera from someone's car... and proceeded to record a clip identifying himself and confessing to the crime:
Houaka Yang, Suspected Thief, Confessed And Identified Himself On Tape With Stolen Camcorder
.
20-year-old Houaka Yang was eventually arrested, and the camera was returned to its owner, Chris Rochester, but not before Yang recorded his ridiculous message to no one in particular, which includes footage of his home, his family and his television program of choice,
Big Bang Theory
.
Here's the mastermind criminal's
video
:
Not smart:
"This is my house, yes, and a stolen camera that I stole. But it's OK, the cop won't figure it out," the suspect says in the 79-second video, as he pans around a home and points out the kitchen and bathroom. Later he adds, "Oh yeah, to introduce you, my name is Houaka Yang. So yeah, how do you do."

Finally, he turns the camera to reveal his face and says with a smile, "And this is me. Hi."

The 20-year-old Yang was scheduled to make an initial appearance in court Wednesday, but the judge recused himself because he knew one of the victims. A new court date wasn't immediately scheduled.
Yang had already been arrested, charged with two counts of being party to misdemeanor theft and one misdemeanor count of carrying a concealed weapon, when Rochester discovered the footage. Get this: the cops nabbed Yang because he was caught on tape -- security video -- breaking into the car. Like I said, not smart.