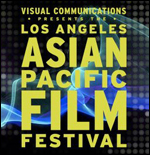 Excited to share this news... Visual Communications, the nation's premier Asian Pacific American media arts organization, has selected six filmmakers to take part in the inaugural
VC Film Development Fund
, a new initiative made possible by the generous support of Comcast.
Each filmmaker will work in conjunction with Visual Communications and will be provided with up to $100,000 towards the development and production of an innovative and compelling narrative feature-length film. Here are the recipients of the VC Film Development Fund:
TANUJ CHOPRA
Tanuj Chopra holds a BA in Art Semiotics from Brown University and an MFA in film direction from Columbia University where he was awarded the Deans Fellowship. His first feature film PUNCHING AT THE SUN (2006) premiered at the Sundance Film Festival and also screened at the Tribeca Film Festival and the San Francisco International Asian American Film Festival, where it won the grand jury prize. Other award winning titles he's directed include BUTTERFLY, CLAP CLAP, CARBON DATED and the ITVS Futurestates film PIA. Tanuj is currently working on industrial and independent projects like crowd-funded indie feature NATURE BOY and episodic mini-series NICE GIRLS CREW starring Sheetal Sheth, Michelle Krusiec and Lynn Chen. In his down time, he facilitates the New Voices for Youth filmmaking initiative, a program dedicated to empowering creativity and civic engagement for teenagers. More of his work is available at www.chopsfilms.com.

MICHELLE KRUSIEC
"A Chinese American Sandra Bullock." (NY Post) Michelle Krusiec is an idiosyncratic writer-actress known as much for her intense dramatic turns as she is for her goofy oddball comedic creations. Michelle has graced your TV set on numerous shows like FRINGE, TOUCH, SECRET LIFE OF THE AMERICAN TEENAGER, COMMUNITY, DIRTY SEXY MONEY. And on the big screen, you can find her in both mainstream and arthouse cinema. Credits include SAVING FACE, FAR NORTH, WHAT HAPPENS IN VEGAS, HENRY POOLE IS HERE, and NICE GIRLS CREW. For a complete list visit michellekrusiec.com. Michelle garnered the Chinese language Oscar nomination for her lead role in SAVING FACE and most recently wrote and produced the solo show Made in Taiwan. She co-stars next with Sandra Oh in the thriller A HELPING HAND.

GREG PAK
Greg Pak is a filmmaker and writer best known for the award-winning feature film ROBOT STORIES (2002) and acclaimed comic book storylines such as Planet Hulk, Incredible Hercules (with Fred Van Lente), Magneto Testament , and Red Skul Incarnate . Pak was named one of "25 Filmmakers to Watch" by Filmmaker Magazine, has been described as a "talent with a future" by the New York Times, and named "Breakout Talent" of the year by Wizard Magazine. He is currently writing X-TREME X-MEN and DOCTOR STRANGE SEASON ONE for Marvel, Dead Man's Run for Aspen Comics and Gale Anne Hurd's Valhalla, and a creator-owned story for the second volume of Secret Identities: The Asian American Superhero Anthology . As part of the ITVS "Futurestates" series, Pak is also developing an interactive iPad app version of his graphic novel VISION MACHINE.

SASIE SEALY
A two-time Tribeca-winning filmmaker, Sasie Sealy is currently developing her debut feature SARAHN_12 with Focus Features. The project has won numerous accolades, including grants from the Sundance Institute and the New York State Council on the Arts, and has been a featured project of Tribeca All Access and Film Independent's Directors Lab. Sasie's shorts have screened at festivals around the world, and her documentary WHEN THE SEASON IS GOOD, co-directed with Andrew Okpeaha MacLean, premiered at the Smithsonian Institute and was acquired for broadcast by ARTE, European Public Television. Sasie now claims New York City as home, despite her persistent (subtle) Southern drawl.

HAM TRAN
Born in Vietnam, Ham Tran immigrated to America as a refugee in 1982. Tran received his MFA in Directing from the UCLA Film and Television, where his short films won numerous accolades including National Finalist for the Student Academy Awards for his short films THE PRESCRIPTION and POMEGRANATE. Tran's thesis film THE ANNIVERSARY won the prestigious USA Film Festival award for Best Short Film, which qualified the film for the 2004 Academy Awards for Best Live Action Short. In the spring of 2007 Tran's first full-length feature film, JOURNEY FROM THE FALL, was released theatrically, followed by a DVD release that fall. In 2008, Tran executive produced the Spirit Award Nominated film OWL AND THE SPARROW, and associate produced an award winning documentary, OH SAIGON! Seeing a gap in U.S. film distribution for Vietnamese language films, Tran co-founded Wave Releasing in 2009 with fellow filmmakers Stephane Gauger and Timothy Bui.

WONG FU PRODUCTIONS
Wong Fu Productions, comprised of Wesley Chan, Ted Fu and Phillip Wang, is a growing independent production company that started in 2003. With a viewership of millions, including over 1.1 million YouTube subscribers, and hundreds of thousands of fans across the U.S. and globe, they work fulltime creating online content and merchandising, and producing with other companies and artists. As emerging artists and filmmakers, they continue to improve their craft, grow as a company, and reach people positively.
Full disclosure: I'm on the Board of Visual Communications, and was part of the committee that reviewed the proposals that eventually became these six grantees. This is a really interesting, talented mix of filmmakers, and I'm really looking forward to seeing what their efforts yield from the fund. For further information on the VC Film Development Fund, go
here
.