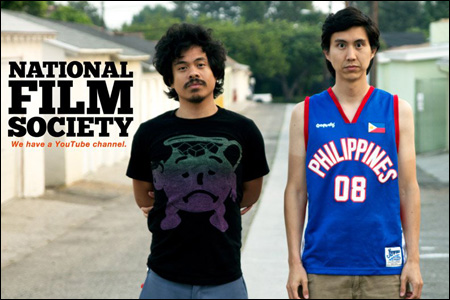 Hey, everybody. You know what time it is. Time to meet the
Angry Reader of the Week
, spotlighting you, the very special readers of this website. Over the years, I've been able to connect with a lot of cool folks, and this is a way of showing some appreciation and attention to the people who help make this blog what it is. This week's Angry Readers are Patrick and Stephen of
National Film Society
.
Who are you?
Hey, I'm Patrick.
Hey, I'm Stephen.
We first met at the 2010 Los Angeles Asian Pacific Film Festival. Patrick was burnt out, heartbroken and partying way too much. Stephen was living at home with his parents, his wife was pregnant with their first child and he had just started an unpaid internship. Over the next year and a half, the two of us "winners" became friends.
Thanks to an unexpected brush with Academy Awards success, Stephen began to grasp the true power of collaboration. Meanwhile, Patrick, tired of grinding away on the same feature film for eight years, realized he no longer wanted to work solo. With these lessons in mind, we decided to join forces and form our version of the Wu-Tang Clan. We call it the National Film Society.
And we just joined PBS. Yup. PBS.
What are you?
PATRICK: Filmmaker, Co-Founder of National Film Society, multihyphenate (I stole that word from someone).
STEPHEN: Filmmaker at the intersection of entertainment, technology and entrepreneurship. Co-founder of the National Film Society, a new media studio that produces brainy, offbeat and ridiculously good-looking web videos for PBS.
Where are you?
PATRICK: In Los Angeles, specifically in Los Feliz at the Gelato Bar on Hillhurst drinking coffee.
STEPHEN: Sitting at the desk in my living room, which doubles as the National Film Society's main studio.
Where are you from?
PATRICK: The Yay with a stop in the midwest for college (University of Chicago), then back to SF for an MFA in film (SF State).
STEPHEN: I'm from the LA area, Montebello specifically. But I spent about ten years up and down the East coast for college (Georgetown) and grad film school (NYU).
What do you do?
PATRICK: Make videos about movies, filmmaking and pop culture with my Pinoy partner in crime, Dypiangco. Try to figure out where the puck is going to be. Build. Repeat.
STEPHEN: Produce a new NFS video every week, which includes writing, shooting and lots and lots of editing. Really a lot of editing. Also I spend a lot of time thinking and strategizing with Epino about how to get better, grow the company and work with more cool people.
What are you all about?
PATRICK: Doing good work, things I believe in. Collaborating with cool folks and helping friends. Innovative ideas. Working smarter. Having a laugh and not taking myself too seriously. My SF Giants, Niners and Golden State Warriors. And PBS.
STEPHEN: Great content and great partnerships. That's our focus. We know that if we make awesome videos, good things will happen. And if we can find partners to collaborate with, we'll be able to grow and get more done than we can do on our own. We're incredibly excited about our newest partnership, which is with PBS. They are an incredible organization known for excellence. We hope to be excellent someday, too.
What makes you angry?
PATRICK: Lack of perspective. Closed minds. Bad vibes.
STEPHEN: Inefficiency and ineffectiveness. And the whenever one of the LA Clippers' best players suffers a season ending injury.