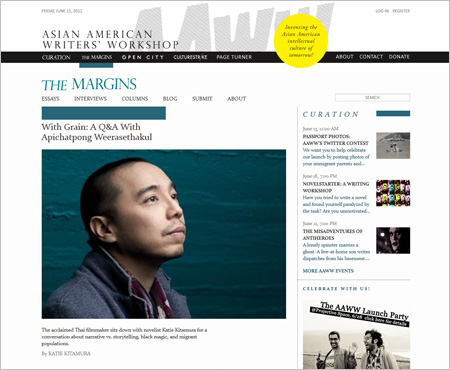 Oh man. I've been watiing for this. The
Asian American Writers' Workshop
has launching
three
exciting new web magazines: The Margins, Open City and CultureStrike -- each with a different spin on what it means to be both an American and a global citizen in "a post-multicultural but not post-racial age."
The Margins
will be the Workshop's flagship magazine and front-page -- "it's where we'll invent the future of Asian American intellectual culture."
CultureStrike
will share the best of immigrant counterculture in an online magazine at the vanguard of arts and politics.
Open City: Urban Asian America
will tell "New Yawk stories" in a time when the city is 70% people of color and home to more than a million Asian Americans.
To celebrate the launch of these three publications, they're
throwing a party
. The evening will feature Ashok Kondabolu of Das Racist, Tania Bruguera, Tao Lin and more. It's happening Thursday, June 28 at Projective Space in New York. Here some more details:
We're Launching 3 Magazines & Throwing a Party!!!

with Ashok Kondabolu of Das Racist, Tania Bruguera & Tao Lin

What: A Party for the Launch of AAWW's three new magazines:
The Margins, Open City, and CultureStrike

When: Thursday June 28th from 7pm-11pm

Where: Projective Space
72 Allen Street (@Grand) Third Floor
New York, NY 10002

How to RSVP: Claim your free tickets HERE. Beta versions of the new sites are up and running now, and they've got some great content. Begin at The Margins and just start poking around from there.

So, we're launching three magazines and we want you to help us celebrate. Come to our exclusive launch party on June 28, and you'll see the stylings of Das Racist's Ashok Kondabolu -it'll be about Ashton Kutcher wearing brownface. Literary enfant terrible Tao Lin will deliver a slideshow about his Vice magazine columns about "Drug-Related Photoshop Art." We'll also feature two signature Remy Martin cocktails (the Remy Victory Tea and the Remy Royale), a photobooth, and DJing by Gigantic magazine editor James Yeh.

We'll also set up a special installation of immigrant photos--from our Twitter contest judged by acclaimed visual artist Tania Bruguera, the Guggenheim Fellow behind Immigrant Movement International. If you want to enter our special Twitter Passport Photo Contest, just tweet a caption and a picture of an immigrant family member and mention the AAWW Twitter handle, @aaww.
The party is free! For further information, go
here
.