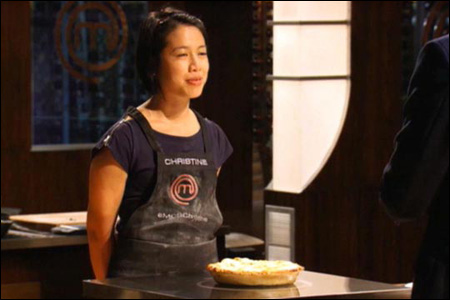 Have you been watching Fox's
MasterChef
? You know, the one with the blond guy who shouts all the time? I've only caught a little here and there, but I know this season's breakout star is definitely
Christine Ha
, who's become a fan favorite for kicking some ass in the kitchen... despite being
legally blind
. Yup. Here's video clip of her
audition
from episode one:
Just to be clear, she's not 100 percent blind:
"It's a very common misconception that people think blindness is all or nothing, it's not true at all," says Christine, who gradually lost her sight between 1999 and 2007 due to an autoimmune disease called Neuromyelitis optica. "From a medical standpoint, doctors call my vision 'counting fingers.' If you hold your hand 10 to 12 inches from my face, I could count your fingers as long as the lighting isn't too dark or glaring. The way I often describe it is that it's like if you take a really hot shower and then you look into the foggy bathroom mirror, where you only see vague shapes and shadows."

The definition of legally blind is 20/200 vision that cannot be corrected by lenses or surgery, and Christine notes she's "much worse than that." The MasterChef kitchen has been a tricky environment because of the bright stage lighting used on the show. "My pupils are continually dilated," she says. "I was having a lot of trouble in the beginning."
Whatever the case, the show's cooking challenges are already difficult enough for someone with 20/20 vision, which makes Ms. Ha's story so remarkable and inspirational. More here:
'MasterChef' sensation Christine Ha: Totally awesome, not totally blind
.
I should mention that the show's top eighteen contestants also include
Felix Fang
and
Michael Chen
, who was eliminated.
MasterChef
airs Monday nights on Fox.