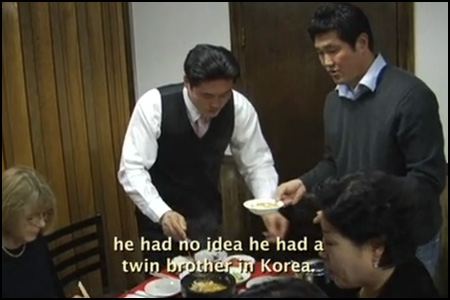 Just heard about
Geographies of Kinship
, the new project from award-winning documentary filmmaker Deann Borshay Liem. She's already made two films about Korean adoption, based on her own experiences, but this time she's exploring the stories of Korean adoptees from around the world.
But of course, in order to get the film made, she needs some cash, so she's started a
Kickstarter campaign
to raise funds. Here's a video with more information:
Here are some more details:
GEOGRAPHIES OF KINSHIP-THE KOREAN ADOPTION STORY (working title) is a feature-length documentary that follows Korean adoptees from the U.S. and Europe, each on a unique journey related to their adoptions. We meet, for example, Estelle Cooke-Sampson who revists the orphanage where she lived until she was adopted by an African American soldier. She wonders how the nuns felt about having a black child in the 1950s. Emma Andersson is a Swedish adoptee who visits Korea for the first time and unexpectedly meets her birth mother, discovering family secrets along the way. Meanwhile, Michael Holloway is in San Francisco when he meets his birth family via webcam on a live television show. He is shocked to discover he has an identical twin. These and other riveting stories unfold against a wider backdrop of the Korean War and the hidden effects of post-war industrialization and globalization on women and families in South Korea.

Since the Korean War (1950-53) approximately 200,000 children from South Korea have been adopted into primarily white families in North America, Europe, and Australia. The Korean adoption experience and its subsequent adoptee diaspora have transformed not only how adoption is practiced worldwide, but also how kinship, identity and race are perceived and contested. As the forerunner for a growing number of international adoptions from China, Russia, Guatemala, Ethiopia and other countries, the Korean model challenges us to reflect on universal questions of identity, assimilation, family and belonging. Geographies of Kinship-The Korean Adoption Story will explore these provocative and timely themes by listening closely to those who have lived the experience most intimately-adoptees-while relaying a compelling story of epic scope. The film will enable audiences to better understand the socio-economic and political forces that brought tens of thousands of foreign children to the U.S. and Europe, the ethical quandaries of those who supported as well as those who opposed international adoptions, and the legacy, in human terms, of transracial and transnational adoptions.
Man, this looks great -- I want to watch it now! The goal is raise $75,000 by July 31. For further information about the film, and to make a pledge, go to the Kickstarter campaign
here
. For more on Deann Borshay Liem and her previous work, go to the Mu Films website
here
.