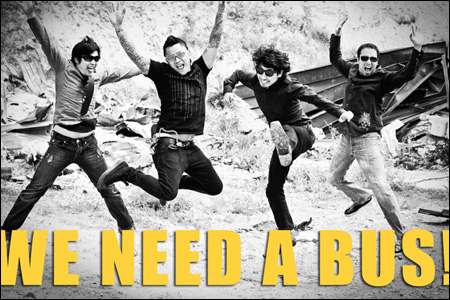 A request for some help... Portland-based band The Slants, who have been rocking faces for years with their special brand of Chinatown Dance Rock, is in serious need of a new touring bus. So they're turning to Kickstarter -- and you -- for assistance:
New Tour Bus for The Slants
.
The band is looking at releasing a brand new album and launching another multi-national tour, but their current ride isn't cutting it. They've put over 200,000 miles of travel and played 350+ shows in four years and are now hoping to get something more reliable, safer, and able to handle their travels:
Here are some more details:
If we raise $10,000:

We'll be able to purchase an older shuttle bus and renovate it for the tour. This would mean that we wouldn't need to tour with a trailer anymore, be much safer on the road, break down less often, and have a little more space on our house on wheels.

Money raised above the goal would allow us to invest some of our money to our stage show: lighting, special effects, etc. to make each tour experience even more special. The priority is obtaining a safe vehicle and creating an even better experience for fans on the road.
Help The Slants hit the road! The goal is to raise $10,000 by June 14. The money will definitely be put to good use -- one hundred percent will go towards purchasing the tour van. For further information, and to make a pledge, go to the Kickstarter campaign
here
. For more on The Slants and their music, check out the band's website
here
.