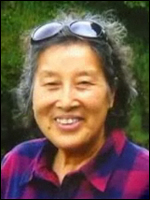 Jacked up. In Houston, a distraught family is asking for the public's help in finding the motorist who hit and killed their grandmother last week:
Family desperate for info in hit and run that killed mother
.
On Sunday, May 27, 75-year-old Yuejuan Zhuang was crossing the street, on her way to the neighborhood grocery store, when was hit and killed by a green Toyota Camry on the 6700 block of Ranchester. The driver fled the scene without stopping:
On May 27, Memorial Day weekend, the 75-year-old retired math teacher walked from the apartment, where she lived with her husband Yanbang Lu, to the nearby Welcome Grocery Store. She was hit along the 6500 block of Ranchester.

The couple always walked together. But this one time, Yanbang Lu decided to stay home to prepare for their planned trip to China.

"If we had walked together, this would never have happened," he told us in Chinese.

Adding to the tragedy, the family is upset that an initial public release of the crash by Houston police shows it happening at 7:45pm, not 3:15pm. Now they are worried, as any misinformation will make the already daunting task of finding the driver even more difficult.
The driver is described only as a black male in his thirties. The family wants justice, but so far no reliable witnesses have come forward. More here:
Investigation into Fatal Traffic Accident at 6700 Ranchester
.
Anyone with information about the incident is asked to call the Houston Police Hit and Run Division at 713-247-4065 or Crimestoppers at 713-222-TIPS.