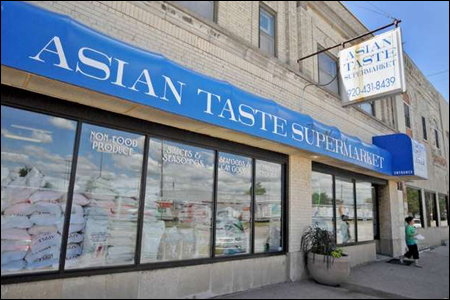 News out of Wisconsin, where leaders in Green Bay's Hmong community recently approached the city about the possibility of officially designating an area of downtown as "Asian Town":
Neighbors urge Asian Town
.
The neighborhood in question has attracted a growing concentration of businesses owned by Hmong entrepreneurs. Proponents say the new name would reflect the community culture and help merchants attract more customers:
The growing number of Asian-American businesses popping up in the neighborhood offer an assortment of food, fashion, music and other products from a variety of Asian countries and cultures. Asian Taste Supermarket includes a hot deli for lunches, and Main Oriental Market plans to do the same soon.

One of the newest businesses, Vue's Custom Fashion & Alteration, opened in April at 618 Bodart St. The store sells men's and women's clothing, as well as accessories, music and videos.

Pa Voua Vue, whose family owns the store, said she would welcome the chance to help anchor an official Asian Town shopping and cultural district.
According to U.S. Census figures, Asian Americans -- largely from the Hmong community -- now represent 4 percent of Green Bay's population. It doesn't seem out of the question to officially carve out a neighborhood space to reflect this growth, and see what happens from there.
The people interviewed in the story are overwhelmingly positive about the possibility of "Asian Town," thought I'm actually interested in seeing if the idea has opponents, because there's inevitably one person or another who's resistant to this kind of change.
UPDATE: Oh, wait:
Asian Town doesn't help blend into community
.