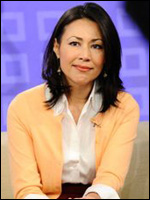 Noooooooo! Rumor has it, only a year after officially becoming co-host on NBC's
Today
show, Ann Curry is getting pushed out of the job:
NBC Prepares to Replace Ann Curry on 'Today.'
The juggernaut morning show institution has been slipping in the ratings over the last year, recently falling from the number one spot back in the spring, for the first time since 1995.
Some network folks blame the show's ratings woes on Curry's co-hosting style, and are apparently conspiring to remove her from the show in time for NBC's coverage of the Summer Olympics:
Several weeks ago, network officials and Ms. Curry began to discuss a different job for her, according to people with knowledge of the negotiations, who insisted on anonymity because the matter was confidential. Those discussions have continued and are expected to be completed before NBC's coverage of the Summer Olympics begins in late July.

Ms. Curry, who has not had a television agent for years, has hired a well-known lawyer, Robert B. Barnett, to represent her in the negotiations, according to these people. It is unclear whether she has explicitly agreed to any arrangement that NBC has offered her in lieu of "Today." But several people who know Ms. Curry say that she has been struggling with the idea of leaving the show for some time.
Longtime readers know that I'm something of an Ann fan, and I'll step up when my friends over at Disgrasian take their digs
calling her a robot
. If you ask me, Ann Curry represents the last shred of anything resembling journalism left on
Today
. She's better off without those fools! Lauer and Roker can suck it.
UPDATE: An
online petition
has been started in support of Ann Curry, calling on NBC to keep her on the
Today
show:
Iraq War Veteran Launches Petition to Save Ann Curry's Job
.