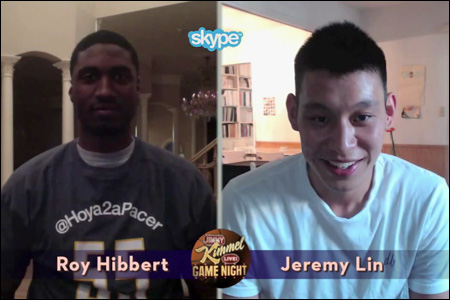 With the NBA season long over for New York Knicks point guard Jeremy Lin, he's been chillin' back home in Palo Alto. So how does the biggest basketball story of the year keep himself sharp during the summer? With a highly competitive round of
Skype Scavenger Hunt: NBA Edition
!
The other night, Jeremy appeared on
Jimmy Kimmel Live
via Skype, going head-to-head against Roy Hibbert of the Indiana Pacers in a riveting battle to see who would be the first to bring back a designated object (i.e. "something they still have from high school"). Here's how it went down:
Better luck next time, Jeremy. But the knee looks good.