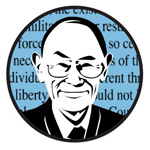 I figure there ought to be some qualified readers out there who might be a good fit for this job. I believe I've had some luck hooking up this organization with some good people...
The Fred Korematsu Institute for Civil Rights and Education, which advances pan-ethnic civil and human rights through education, is hiring!
They're currently accepting applications for an
Education Coordinator
, who will help with the Korematsu Institute's programs, including curriculum development and distribution, event planning, fundraising and development.
Here are a few more details about the position:
The Korematsu Institute is a program of the Asian Law Caucus, a member of the Asian American Center for Advancing Justice. Founded in 1972, the Asian Law Caucus is the nation's first legal and civil rights organization serving low-income Asian Pacific American communities. Its mission is to promote, advance, and represent the legal and civil rights of the Asian and Pacific Islander communities.

Responsibilities:
- Support curriculum distribution and development;
- Assist with event planning;
- Support fundraising and development efforts;
- Reports to Korematsu Institute director

Qualifications:
- Demonstrated ability to work independently and manage multiple tasks;
- Excellent research, analytical, written and oral communication skills;
- B.A./B.S. or equivalent educational or work experience;
- Major in Ethnic Studies or Asian American Studies a plus;
- Experience working in education and/or community organizing a plus;
- Proficiency with Google Apps and MS Office Suite;
- Ability to work some weekends and evenings
Applications are due on July 6. The is a full-time position located in San Francisco, with a target start date of August 2012. For further information about the position, including how to apply, go the Korematsu Institute website
here
.