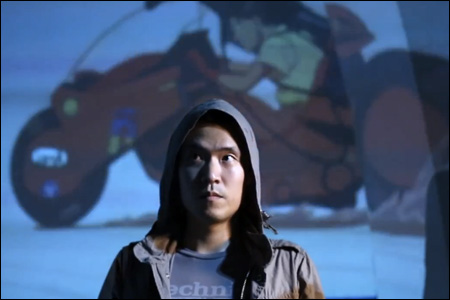 Hey, hip hop heads. Some new music for you... We're pleased to present the official premiere of
"This Song"
the first ever music video from nerdcore rapper (and friend to this blog) Eugene Ahn, aka
Adam WarRock
, off of his new mixtape
Longshot
. Check it out:
This kicks off Adam WarRock's annual
donation drive
, commemorating the anniversary of Eugene quitting his job and becoming a full-time maker of "indie nerdcore pop cultural emo hip hop."
As longtime fans know, Adam WarRock releases a ton of free music throughout the year, almost on a weekly basis. The once-a-year donation drive supports him as an artist, keeps his site running, and keeps the music free.
If you like the song, you can download it, along with a mixtape of new and exclusive material, when you make a
donation
. You'll get two albums worth of material, an autobiographical Adam WarRock digital comic drawn Ed Piskor (
American Splendor
,
Brain Rot!
), and more.
For more on Adam WarRock and his music, go to his official website
here
.