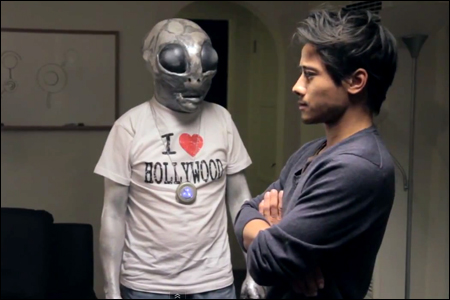 Check out the pilot of episode of
Hollywood Aliens
, a new sci-fi/comedy webseries about extraterrestrials living among us. It's directed by Byron Q and Kevin Boston, produced by James Bak, and starring David Huynh. Something very different from the team behind the indie gangster feature film
Bang Bang
:
I think it's weird and funny, and has a lot of potential. My only problem is with the aliens. I'm cool with the rubbery masks -- this is an indie project, so I wasn't expecting CGI aliens -- but I do wish their dialogue was dubbed, so their voices wouldn't sound so muffled. But overall, it's fun stuff.
For future episodes of
Hollywood Aliens
, subscribe to Beyond Cinema's YouTube channel
here
. Also follow their updates on Facebook
here
.