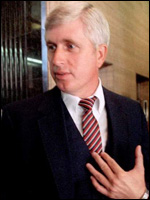 With this week marking the 30th anniversary of Vincent Chin's murder, I've been reading a lot of poignant commemorations and commentaries revisiting the case.
On Saturday, I'll be moderating a
nationwide town hall
on hate crimes and bullying, via Google Hangout, presented by Asian Pacific Americans for Progress.
Chin's killers, Ronald Ebens and Michael Nitz, were infamously sentenced to probation, a fine, and no jail time for beating Vincent to death with a baseball bat. Have you ever wondered what happened to them?
Ronald Ebens, now 72, says he's "hanging in there":
30 years later, Vincent Chin's family awaits justice in fatal beating
.
Ronald Ebens says he's a tired old man now.

At 72, he lives in arid Henderson, Nev., far from Metro Detroit and the fatal beating he committed here 30 years ago this week.

Ebens, an autoworker, saw Vincent Chin as a symbol of Japan's rise and Detroit's decline in the car industry and swung a baseball bat at the Chinese-American's skull on a Highland Park street while his stepson, Michael Nitz, held Chin down.

Four days after the attack on June 19, 1982, Chin, 27, of Oak Park died of his injuries.

The attack sparked a civil rights movement that galvanized Asian-Americans across the country.

Ebens, reached by phone at his home this week, says he regrets the attack.

"It was an unfortunate incident and should never have happened," he said. "I'm sorry it happened."

Asked how he's doing now, he responds casually. "I'm hanging in there," he said. "But I'm getting tired. I'm an old man."
That's great. Ebens, who never served a day in jail, has grown to be a tired old man. That's more living than Vincent Chin ever got to experience. And even now, Ebens doesn't take responsibility. Thirty years after the fact, it's still hard not to feel anger in the face of such clear miscarriage of justice.