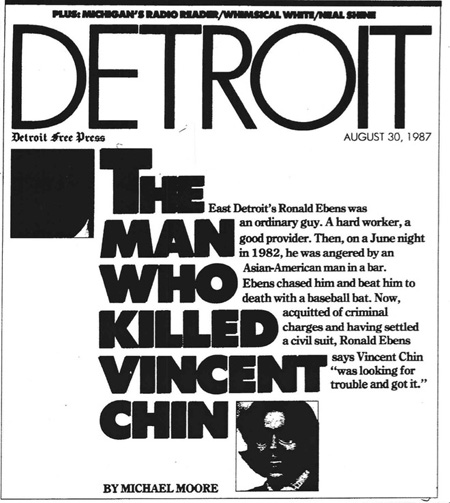 'The Man Who Killed Vincent Chin' by Michael Moore
: In this
Detroit Free Press
interview from August 1987, Michael Moore talked to Ronald Ebens, who said he couldn't understand why the Asian American community was angry, and that Vincent Chin "was looking for trouble and got it."
Ronald Ebens, the man who killed Vincent Chin, apologizes 30 years later
: AALDEF's Emil Guillermo's exclusive phone interview with Ronald Ebens, in which the killer of Vincent Chin expresses regret.
Why Vincent Chin Matters
: "Vincent Chin has lived longer in memory than in reality." Chin's murder brought our community together in profound ways, with work that is still ongoing.
Remembering Vincent Chin
: "Despite our nation's great progress in advancing civil rights, brutal assaults made more vicious by racial epithets still occur in big cities and small towns. Crosses are still burned on the lawns of people minding their own business. Mosques, synagogues and churches still are desecrated and sometimes destroyed. Incidents that belong only in our history books still appear in the pages of our newspapers."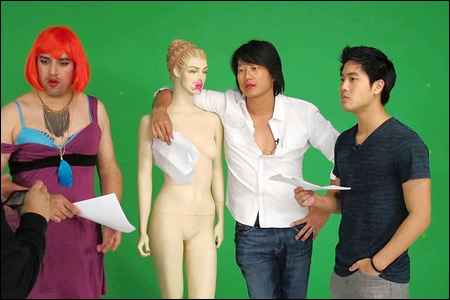 Asian American Actors Find a Home on YouTube
: YOMYOMF's new YouTube channel is an entertainment channel. Asians just happen to be in it.
Asian Americans Respond to Pew: We're Not Your Model Minority
: Colorlines responds to that highly controversial Pew Research Report released early last week. "Poor research of an oft-overlooked community, it turns out, might do more damage than no research at all."
Is Your Font Racist?
Can a font be racist? You bet.
Talented, Young, and Asian American
: Not sure how we feel about this group of young Asian American chefs being called the "A-Funk Collective," but what the hell. They're awesome. (We'd love to see more women in the mix, though.)
Television Drags Its Feet on Diversity
: On TV Land's new sitcom,
Soul Man
, and the woeful lack of diversity on mainstream television.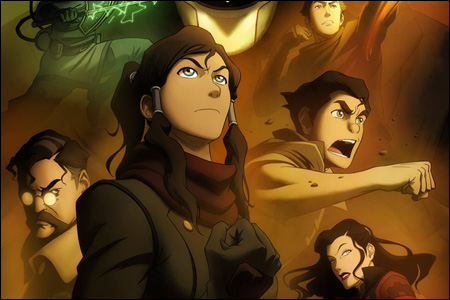 Why Legend of Korra Is the Smartest Cartoon on TV
: "Quick! Make a list of action-packed cartoons for kids that still manage to scratch the spiritual and sociopolitical itches of older viewers caught between perpetual war and Occupy populism." Put
Legend of Korra
at the top of that list.
Meet Min Reyes, Canada's top political tweeter
: Min Reyes wasn't always into politics, but in just 18 months, she's become a key force in social media discussions of Canadian politics.
ESL student graduates as valedictorian
: When Duc Nguyen came to the U.S., he didn't know any English and was made fun of by his peers. Four years later, he graduates from his high school as class valedictorian.
New York Asian-American Congress Candidate Seeks to Make History
: Grace Meng aims to be the first Asian American member of New York's Congress delegation. What's her strategy? Encouraging the diverse Asian American community to vote.
An Unlikely Incubator of Olympic Talent
: How a warehouse sandwiched between a trailer park and a strip mall became a training center for budding Olympians.