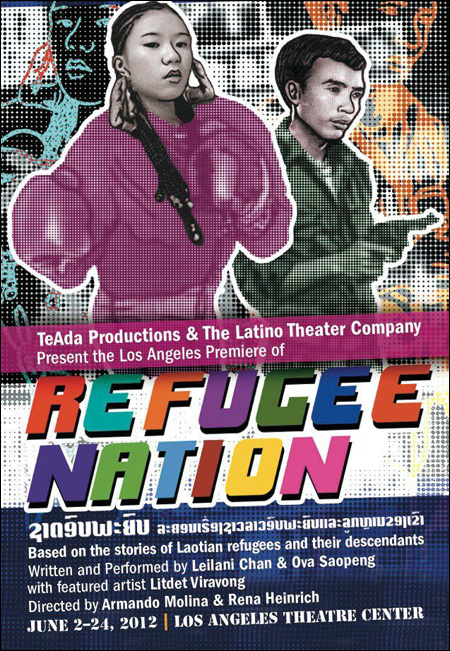 Los Angeles! Sorry for not posting this sooner. But if you get the chance...
Refugee Nation
has come home just for you. Through this weekend at the Los Angeles Theatre Center, catch performances by creators Leilani Chan and Ova Saopeng, who traveled across the country collecting oral histories from Laotian refugees and their descendants. This run is a co-production of TeAda Productions and the Latino Theater Company. Here's more info:
Refugee Nation
Based on the stories of Laotian Refugees and their descendents

Written and performed by Leilani Chan and Ova Saopeng
with featured artist Litdet Viravong

Directed by Armando Molina

Produced by TeAda Productions and The Latino Theater Company

A mother lives alone in the darkness. A father struggles to forget a lost war. A son battles in the streets of urban America. A daughter searches for answers in her community. Refugee Nation is about a young generation struggling to understand their history and the silence of an elder generation still healing from the traumas of war. Based on the stories of Laotian refugees in the U.S. Refugee Nation returns to L.A. to premiere the completed work after touring the country over 5 years.

More than just a telling of Laotian American history, this three-person performance eloquently touches upon issues relating to the refugee experience, assimilation, generation gap, and mental health using drama, film, music, and audience interaction, and personalizes these issues through a genuine Laotian American perspective. The result is a performance that not only brings to light the hidden stories of Laotian Americans around the U.S., but one that is able to unite people from all types of backgrounds, ethnicities, and histories by relaying the ideas of change, loss, struggle, healing, and the unrelenting strength of the human spirit.

The Refugee Nation continues to grow. With the certainty of new refugee arrivals coming from the Middle East, what can we learn from the wounds of a war 30 years ago that are still yet to be healed?

Upcoming Shows

The Los Angeles Theatre Center
514 S. Spring St.
Los Angeles, CA 90013

June 2 – June 24, 2012
Previews: May 31, June 1

Thursday - Saturday 8pm | Sunday 3pm

General $30 | Students, Seniors, Veterans $20 | $10 Thursday
For more information, including how to purchase tickets,
click here
. To learn more about
Refugee Nation
, visit the
official website
.