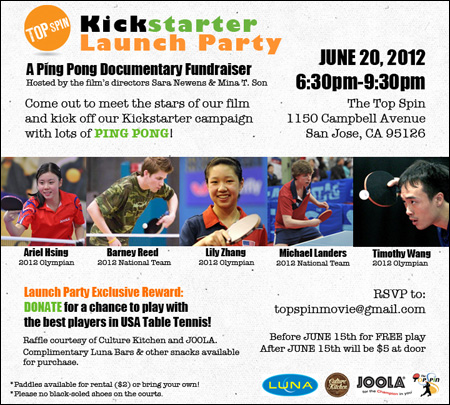 A little while back, I mentioned a feature documentary in the works called
Top Spin
, directed by Sara Newens and Mina T. Son, following a group of young table tennis players on their quest to compete at the Olympics. They're going to be kicking off a Kickstarter campaign to raise post-production funds, with the goal of releasing the film in early 2013. So...
Heads up, Bay Area.
Top Spin
is throwing a
launch party
next week to help kick off their Kickstarter campaign. Come out, meet the stars of the film, and donate for a chance to play against some of the best players in USA Table Tennis. It's happening Wednesday, June 20 at the Top Spin in San Jose. Here are some more details:
Top Spin Kickstarter Launch Party in Silicon Valley

Wednesday, June 20, 2012
6:30-9:30pm

The Top Spin
1150 Campbell Ave
San Jose, CA 95126-1063

A PING PONG DOCUMENTARY FUNDRAISER

Hosted by Co-Directors Sara Newens & Mina T. Son

Silicon Valley, show us what you are made of!

Come out to meet the stars of our film and help us kick off our Kickstarter campaign with lots of PING PONG!

Top Spin is a feature-length documentary following a group of table tennis phenoms on their quest for Olympic glory. For the past year, we've followed these teen sensations to China, Mexico, Germany, all over the U.S., and soon… London for the 2012 Olympics!

We're raising money for post-production funds with the goal of releasing the film in early 2013!

Once our Kickstarter campaign goes live, DONATE for a chance to play against the best players in USA Table Tennis! (This is an exclusive reward only available the night of the Launch Party.)

Featuring:

Ariel Hsing, 2012 Olympian
Michael Landers, 2012 US National Team Member
Lily Zhang, 2012 Olympian
Barney Reed, 2012 US National Team Member
Timothy Wang, 2012 Olympian
Erica Wu, 2012 Olympian

RSVP to: topspinmovie@gmail.com

*before June 15th for FREE entry
*after June 15th will be $5 at the door

Raffle courtesy of Culture Kitchen and JOOLA USA.
Complimentary Luna Bars and other snacks available for purchase.

-Paddles available for rental ($2) or bring your own!
-Please NO black-soled shoes on the courts.
South Bay, represent! And help a cool film project make it to the finish line. For further information about the party, refer to the Facebook event
here
. To learn more about
Top Spin
, check out the film's official website
here
.