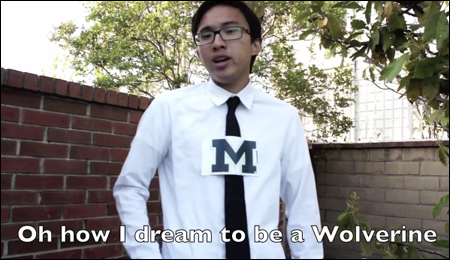 Lawrence Yong really wanted to attend the University of Michigan. So when he applied and ended up on the wait-list, the high school senior from Los Angeles decided to try a little something extra to increase his chances of getting noticed. He
sang a song
to the U-M admissions office:
Accepted: Unusual methods by wait-listed University of Michigan student bring success
.
To the tune of the Jackson 5's "I Want You Back," Lawrence explains why University of Michigan is his top choice. Despite being unlisted, the video racked up over 35,000 views and got a lot people talking, but most importantly,
it worked
. It got the attention of Michigan's admissions office, and the kid is now Ann Arbor-bound. Here's the video:
It's not mind-blowing, but you have to appreciate the guy's spirit. Pretty cool, considering that only 42 of the 14,600 students on last year's wait list actually got accepted. Go be a good Wolverine, kid. You've earned it.