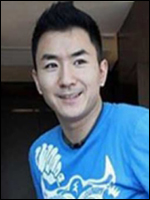 Gruesome, insane story out of Canada, where authorities are leading an international manhunt for murder suspect Luka Rocca Magnotta, a 29-year-old porn actor who videotaped himself killing a man, dismembered the body, then mailed the body parts to multiple politicians.
The victim has been identified as 33-year-old Lin Jun, a Concordia University student from China, who was murdered between the evening of May 24 and May 25:
Luka Rocco Magnotta manhunt continues; body-parts killing victim identified as Concordia student Lin Jun
.
It is believed that Magnotta flew to Europe last week:
The investigation into the case took on international dimensions Thursday as police sought the help of Interpol to find Magnotta, who is believed to have fled to France. Police say they plan to charge Magnotta with first-degree murder and interfering with the dignity of a dead body.

Magnotta is the sole suspect in a bizarre and grotesque killing in which the victim was cut into pieces and body parts were sent through the mail. A second foot ended up at the headquarters of the ruling Conservative Party of Canada in Ottawa. A hand was also mailed, destined for the Liberals.

Lin Jun, a 33-year-old Chinese national, was murdered between the evening of May 24 and May 25, Lafrenière said at a mid-morning news conference Friday.
The article goes on with a loooong, unpleasant list of Magnotta's criminal past and bizarre behavior. This is some seriously disturbing shit. World, please catch this sicko. More here:
Body parts belonged to missing Chinese student, say police
.