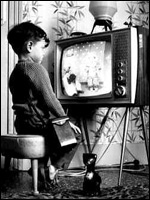 Some news from the hell-I-could-have-told-you-that department... Seriously, no surprise.
According to a new study, watching television could boost your child's self-esteem -- that is, if your kid is a white male. Everybody else, sucks to be you.
TV can boost self-esteem of white boys, study says
.
White boys, watching TV must be so awesome for you. But according to the study, published in Communication Research, the self-esteem of white girls, black girls and black boys apparently decreases with TV consumption:
Over the course of one year, Kristen Harrison and Nicole Martins surveyed about 400 black and white Illinois students. All of the 7- to 12-year-olds are from lower-middle to upper-middle socioeconomic communities, said Harrison, a professor of communication studies at the University of Michigan. Black children surveyed, on average, spent an extra 10 hours watching TV each week.

With the definition of self-esteem being an overall feeling of self-worth, Harrison told CNN, kids were asked reverse-coded questions such as, "Are there a lot of things about yourself you would like to change?"

While the study focused solely on how the amount of time spent in front of the TV affects a child's self-esteem, the programs likely are what give white boys a confidence boost, said Amy Jordan, director of the Media and the Developing Child sector of the Annenberg Public Policy Center of the University of Pennsylvania.

Man, if you're a white boy watching TV, whatever show you're watching, things are looking pretty good for you. Of course, my obvious question for this study is what happens to an Asian kid's self-esteem when he or she watches TV. A future study, I hope.
More here:
Study Finds TV Can Decrease Self-Esteem in Children, Except White Boys
.