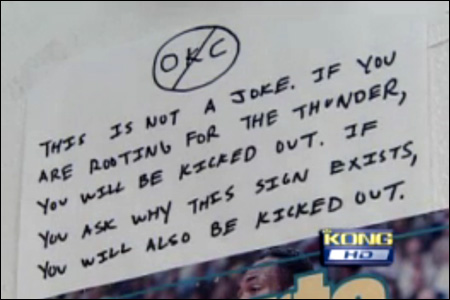 In Seattle, a lot of folks are taking it rather hard that their former hometown team are now playing in the NBA Finals as the Oklahoma City Thunder:
Thunder fan? Your money's no good here
.
The team formerly known as the Seattle SuperSonics was sold and moved to Oklahoma City in 2008. For some die hard Sonics fans, it's been tough to see the old team so close to a championship. The better they play, the more it hurts.
John Song, lifelong Sonics fan and a barber at The Roosvelt Barber Shop, took it to the next level. He instituted a no-tolerance policy on Thunder fans:
We were here talking about some poll that we heard on ESPN about the Thunder," said John Song, a barber at The Roosevelt Barber Shop. "One of Niko's clients over there he was waiting for a haircut and he jumped in and said 'I'm a Thunder fan. What's wrong with Kevin Durant winning a ring?'

"The only thing I could think of is, 'There is the door. Leave.'"

A sign on the wall reads, "This is not a joke. If you are rooting for the Thunder, you will be kicked out. If you ask why this sign exists, you will also be kicked out."

"As you can see by the sign we put up there, it's evident. This is no nonsense. We don't tolerate that. No Thunder fans in here," said Song. "If you are going to be a Seattle SuperSonics fan or say you were, there is no reason why you should ever want Clay Bennett to hoist that championship trophy with that team. That is just absurd."

"I am the owner of the business and I was born and raised in Seattle. I put these gentlemen in here and it's just the way we feel. We're very passionate about our Sonics," said Rex Alcantara.
You've been warned, Thunder fans. You can take your business elsewhere. (Thanks, Garrett.)