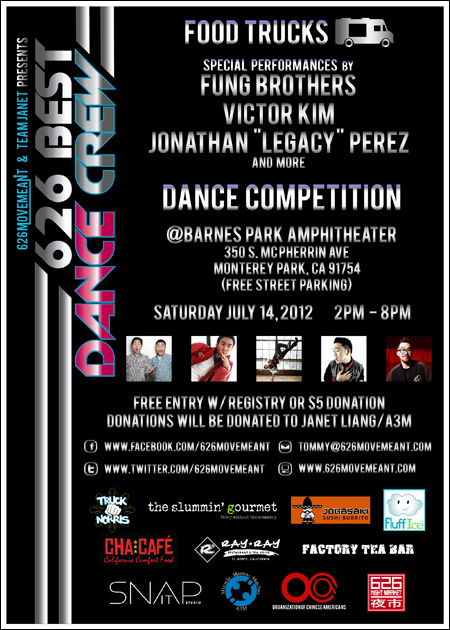 Calling out everybody in the 626! Everybody knows that Asians can shake some ass when it comes to getting down with the hip hop choreo. But one thing we suck at is getting registered to be bone marrow donors. So here's a cool community event that combines these two great things together.
626 Movemeant and Team Janet invite you to dance competition/bone marrow registry drive for Janet Liang/A3M. Local dance crews will be competing for the title of
626 Best Dance Crew
and you can take some easy, simple steps to become a bone marrow donor. It's happening Saturday, July 14 at Barnes Memorial Park in Monterey Park. Here are some more details:
626 Best Dance Crew Competition

Saturday, July 14, 2012
2:00-8:00pm

626 Movemeant & Team Janet would like to invite you to our dance competition / bone marrow registry benefit for Janet Liang/A3M.

www.helpingjanet.com www.asianmarrow.org/

Location:
Barnes Memorial Park (Outdoor Amphitheater)
Monterey Park, CA

(Public event, open to all ages) Competition will start at 4pm.

Local Dance Crews from the 626 Community will be competing for the title of "626 Best Dance Crew"

Winning team will receive:
- A dinner valued at $100 from Cha Cafe
- Gift cards worth $62.6 from Ray Ray
- A free drink at Factory Tea Bar (one drink per day per team member for 626 hours)
- A photoshoot by Tommy Su of SnapIt Studio (YTF's photographer)
- Featured in the next Fung Brothers music video "BOBALIFE" and more to come...

Before the start of the event, A3M will hold a bone marrow registry drive. All it takes is 4 to 5 mins to fill out a short form, get the cheek swab materials, swab your cheeks (takes 40 secs) and you're done! It's quick and painless. *You will need to be 18 & over to register* If you're under the age of 18, please bring a friend or family member that's 18 & over, so they can register.

There will be a $5 donation at the door for those who didn't register with A3M on the day of the event and received a raffle for a meet & greet drawing with the celebrity judges & performers.

The competition will be Hosted by:

The Fung Brothers (David & Andrew Fung)

Teams Competing:

- Temple City High School - Choreo
- Alhambra HS - All Male
- Alhambra HS - Choreo
- Bakarda Modern - West Covina
- Honey Badgerz - West Covina
- Notoriouz Crew - Baldwin Park
- Fire Ferrets - San Gabriel
- Mark Keppel HS - Choreo

Special performances by:

- The Fung Brothers (YouTube Comedian Rappers)
- Jason Chu (Asian-American Rapper)
- Victor Kim (ABDC Season 3 winner, Singer, YTF)
- Jonathan "Legacy" Perez (SYTYCD, Step Up 3D, Dance for Rihanna, Christina Aguilera, Black Eyed Peas )
- Kevin Lien ( YouTube Artist)

Judges:

- Victor Kim
- Jonathan "Legacy" Perez
- Bart & Joe (Just Kidding Films, YouTube Comedians)
The latest update from Team Janet is that Janet Liang has found a 9/10 bone marrow match, and will be receiving a transplant in late July. 100% of the donations from this event will be donated to help Janet with her medical bills, as well as help A3M find potential donors for other leukemia patients.
Here's a
promo video
for the event. And here's Victor Kim of Quest Crew in another
promo video
. For further information about the 626 Best Dance Crew Competition, go to the Facebook event
here
.