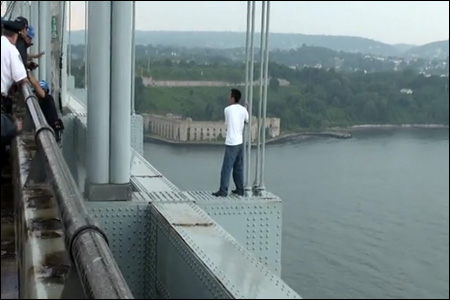 Whoa. This week in New York, a Chinese American police officer was able to talk down a man threatening to jump from a ledge on the Verrazano-Narrows Bridge:
Verrazano Bridge Rescue: NYPD Officer Yi Huang Talks Down Distraught Man From Jumping
.
The man was apparently distraught over arguments he was having with his daughter and his financial situation. NYPD Officer Yi Huang, who speaks Cantonese and happens to be from the same hometown, was able to reason and reminisce with the man:
According to the NYPD, "the man was despondent over arguments he had been having with his 18-year-old daughter, and also was upset over finances. Officer Huang learned further that the aided came from Taishan village in Guangdong province in southern China, where the officer's family happened to be from and from where Officer Huang immigrated at age four to New York City's Chinatown, where he now is assigned to patrol. Officer Huang spoke of his own family's experience and asked him to think about seeing his daughter at her wedding, or meeting his grandchildren."
Here's some
video footage
of the rescue. The guy was taken to the hospital and is apparently doing okay now. Props to Officer Yi Huang for being the right man for the job -- this situation could have turned out a lot worse:
Video: Cops Rescue "Despondent" Man From Verrazano Bridge
.