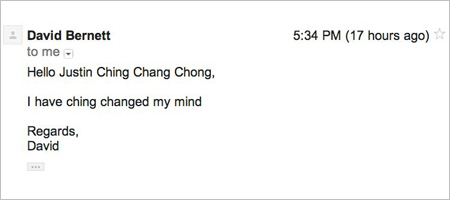 If anyone's interested in hiring a racist idiot, I got one for you.
Justin Ching was recently looking to hire a web designer. Enter
David Bernett
of Chroma 9, a Bay Area website developer who answered Justin's Craigslist ad. He seemed like a promising candidate, until the following email exchange resulted in the baffling racist response above.
David Bernett suddenly became that racist dick kid on the playground:
From: David Bernett [david@chroma9.com]
Date: Thu, Jul 5, 2012 at 5:34 PM

Hello Justin Ching Chang Chong,

I have ching changed my mind

Regards,
David

On Wed, Jul 4, 2012 at 12:19 PM, Justin Ching wrote:

Hi David,

Happy 4th!

I wanted to followup and see if you were still interested in working with us. Would love to jump on a call today or tomorrow.

Cheers,
Justin

On Sun, Jul 1, 2012 at 2:39 PM, Justin Ching wrote:

Hi David,

Thanks for reaching out!

My director and I were impressed with your portfolio and would like to schedule a conference call this week to chat about the project.

Please let me know when works best for you.

Cheers,
Justin

On Mon, Jun 25, 2012 at 10:15 PM, David Bernett wrote:

Hi there,

My name is David Bernett, and I am a 28 year old professional web designer with 5 years of commercial experience. I came across your posting on CraigsList, and unlike other alternatives, I will meet and exceed your expectations.

You can view my portfolio of previous work at http://www.chroma9.com

I have extensive experience with WordPress and specialize in optimizing for iPhone/iPad/Mobile and search engine optimization.

You'll find that my prices are very reasonable and the result will be of the highest quality. If you are interested or have any questions, my email is david@chroma9.com and my phone number is 415-xxx-xxxx.

Regards,
David
"Ching Chang Chong"? Quick word of advice, David Bernett. If you're interested in finding work, it's probably a good idea to leave the racist slurs out of all communication. But then again, this is probably a good thing. At least Justin and Co. -- and anyone else reading this -- now know not to work with you. Ever.
Also, I don't recommend visiting chroma9.com at this time. You'll be greeted by a trololol video and javascript alert() bombs that make it impossible to close the page. Real classy, all around.
UPDATE: The chroma9.com website has been updated with a message saying that this whole thing was allegedly all some kind of elaborate bullshit hoax illustrating the dangers of devaluing web work on Craigslist:
David Bernett doesn't actually exist.

The whole portfolio was fake, filled with lame/templated WordPress themes.
The initial idea was just to troll people on CraigsList who devalue web work.
Really, nothing personal to Mr. Ching -- he was just one of many email responses.
His last name was rhymed with other words, any interpreted racial slur is on you.

The lesson learned here, do not go on CraigsList looking for web work.
Original Cool/Indie/Minimal craiglist post: http://sfbay.craigslist.org/sfc/cpg/3101558027.html
I guess everything didn't turn out "fly".

PS. I'm Asian. But who cares.
Lesson learned? What lesson learned? Hoax or not, whatever happened with all this was completely pointless. There's some serious bullshitting going on up in here. And that nonsense about "Ching" rhyming with other words that just happen to be "interpreted racial slurs"? That's a steamy load of crap. Thanks for wasting everyone's time.