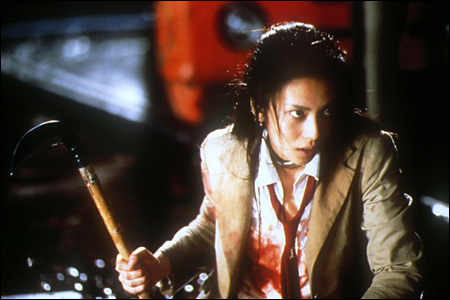 It looked like the massive success of
The Hunger Games
movie had all but killed plans for a Hollywood remake of
Battle Royale
. Both movies are about a dystopian future in which youth are forced to kill each other in a last-man-standing competition to the death. With the movie remake scrapped, many fans of the Japanese cult classic breathed a sigh of relief.
But hold up. It looks like we could still see a U.S. remake of
Battle Royale
-- as a TV series. The CW is apparently in talks about the possibility of turning the property, based on a novel by Koshun Takami, into an hourlong drama series:
Battle Royale' could be reborn as a TV show
.
In the last few weeks, the CW has had talks with the project's Hollywood representatives about the possibility of turning the property into an English-language show, said a person with knowledge of the situation who was not authorized to speak about it publicly. The talks were preliminary, but if a deal could be reached, the network would acquire rights to Koushun Takami's underlying novel, then unpack and expand on it for an hourlong dramatic series.

Asked about the CW talks, Joyce Jun, a Hollywood attorney representing U.S. rights to the title, would say only that "there is no deal in place." A CW spokesman confirmed only there had been some discussion but declined to comment further.
People, what is the point? If you've seen the original movie, you know it's one crazy-ass violent tale. Could they really make a prime time network show as bloody and insane as
Battle Royale
needs to be? I doubt it.