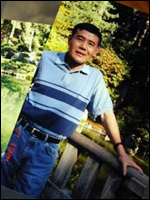 A couple of weeks ago, I wrote about the murder of
Zhen Bo Liu
, a Chinese food delivery driver who was brutally shot and robbed in Wilmington, North Carolina.
Six people -- five of them are teenagers -- have been charged with plotting the robbery, while two of the suspects face murder charges. Killed for $48 cash, chicken wings and shrimp fried rice. It's senseless.
Since then, community members have donated thousands of dollars to help Liu's family cover funeral costs and other expenses:
Donors give thousands to Liu family in wake of murder
.
Liu, 60, was fatally shot June 14 while delivering food to an address on South 13th Street. The murder rattled Wilmington and stricken Liu's family with grief, leaving many questioning why gun-wielding thieves took the life of an unarmed grandfather trying to do his job.

Six people have been charged with plotting the robbery, and two of those, including a 15-year-old boy, face first-degree murder charges for allegedly firing the shots that killed Liu.

Liu's family is trying to raise $10,000 to offset funeral and travel expenses. Liu's wife traveled here from China after the crime, and has been seeing to her late husband's arrangements. She expressed in an interview Tuesday her desire to return to the United States to watch the suspects' trials unfold.
The fund was established a couple of weeks ago, and the funeral has already been held, but I'm sure Liu's family would still appreciate the help:
Murdered delivery driver's family thanks community at memorial
.
Donations to the family can still be made at any Wells Fargo bank location in Wilmington or sent to the family's law firm, Alley, Register & McEachern at 701 N. Fourth St., Wilmington, NC 28401. Checks should be made payable to "Alley Register McEachern Trust Account FBO Zhen Bo Liu."