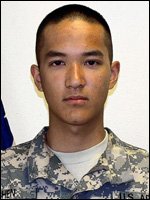 This week, the first court martial in the death of Private Danny Chen began in Fort Bragg, North Carolina. Sergeant Adam M. Holcomb is one of eight soldiers implicated in the repeated physical attacks, mental abuse and racial taunts that ultimately drove Chen to take his own life:
Army Prosecutor Details Racial Abuse That Preceded Soldier's Suicide
.
Prosecutors argue that Chen, 19, was driven to suicide in the face of a steady campaign of harassment and hazing. Sergeant Holcomb is charged with negligent homicide, assault and maltreatment of a subordinate, among other crimes.
But Holcomb's defense lawyer was working hard to shift the blame on the victim, contending that Chen killed himself because he was distraught over his poor performance as an infantryman and because his Chinese immigrant parents had apparently disowned him for joining the military:
"This conduct over time drove Private Chen to take his own life," the prosecutor, Capt. Blake Doughty, said.

But a lawyer for the defendant, Sgt. Adam M. Holcomb, contended here that Private Chen killed himself because he had been distraught over his incompetence in the Army and over being "disowned" by his parents, both Chinese immigrants, who were upset that he had enlisted in the military and had been deployed to Afghanistan.

"There is one and only one person responsible for the death of Private Chen, and that person is not Sergeant Holcomb," said the defense lawyer, Capt. Dennis Hernon. "That person is Private Chen."
Sergeant Holcomb's lawyer says he never called Private Chen any racially derogatory terms. But soldiers who served alongside Private Chen testified that Holcomb repeatedly addressed with racist nicknames like "Dragon Lady." More here:
Private Wasn't Suited for War Zone, Soldiers Testify in Court-Martial on His Suicide
.
The most heartbreaking part of the proceedings thus far has been the testimony of Pvt. Chen's mother, who said she never disowned him:
Heartbroken mother of Pvt. Danny Chen says he was 'the best son in the world' at sergeant's court-martial trial
.