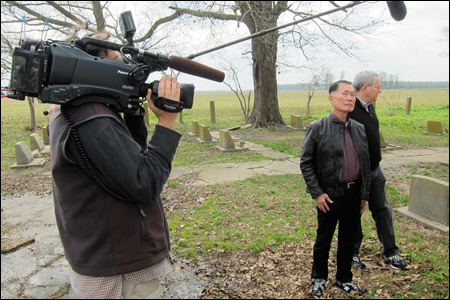 I recently learned that a feature documentary about George Takei is in the works. You know it was only matter of time. And this looks pretty good.
The George Takei Documentary Project
, directed by Jennifer M. Kroot, promises to be "the definitive documentary portrait" of George Takei's life and career, chronicling his rise to fame, and how we went from a
Star Trek
celebrity to becoming a civil rights activist. Here are some more details:
Most people know George Takei as Mr. Sulu, the helmsman from the original STAR TREK television show and movies. Fewer people know that George was imprisoned for four years during his childhood in a Japanese American internment camp. In his activism, he equates the experience of Japanese Americans during WWII with the civil rights struggles that LGBT people face today. In 2005, after a lifetime of being "closeted" George "came out" publicly so that he could participate in the struggle for marriage equality.

The film chronicles George's rise to fame, and how he went from a STAR TREK celebrity to becoming an active voice in civil rights. George's personal struggles with keeping his homosexuality a secret are recounted. But, it was ultimately George's priority and commitment to civil rights that compelled him to "come out" at age 68. Prompted by California's struggle for marriage equality, George used this opportunity to advocate for the cause by publicly announcing himself as a gay man in the media, and in 2008, he legally married his male partner of 25 years, Brad Altman.

Also included in the film are perspectives and interviews of George's friends, peers and admirers. Finally, the film will feature George's equally engaging husband, Brad. George and Brad have become the poster-couple for same-sex-marriage and an example of grace under fire.

In his own words George navigates us through his life story – past and present. By recognizing the political and historical landscape of George's life journey, and contextualizing the events that shaped his life and propelled him to boldly go where no man has gone before. The film aims to give an intimate account of a man who has broken barriers through courage, honesty and humor, but who only recently embraced his own truth.

Beyond his celebrity as a "Star Trek" icon, George Takei is an activist utilizing his grace and humor to bridge galactic social and political divides.
Live long and prosper! George Takei has had an amazing, fascinating life. The film is currently in production, and is expected to be completed sometime next summer. For more information and updates, go to the film's website
here
.