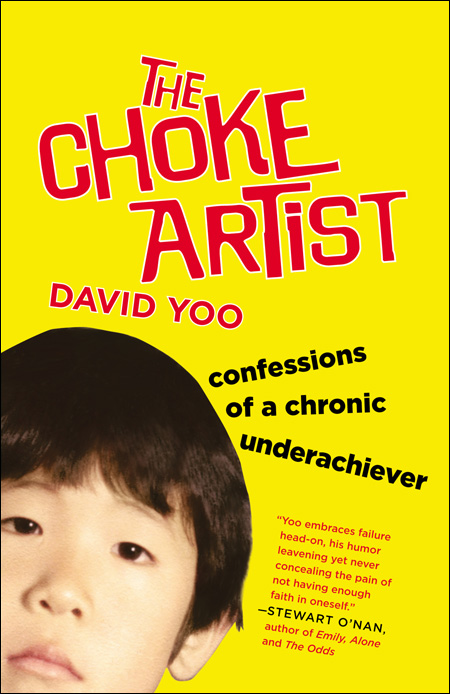 I've been laughing my ass off reading
The Choke Artist: Confessions of a Chronic Underachiever
, the latest book from David Yoo.
I'm a grown-ass man, and I've been a fan of Dave's young adult fiction for years. This book is his first nonfiction foray -- an autobiographical collection of cringe-inducing essays about being a chronic underachiever.
I'm giving away some free copies of
The Choke Artist
. Want one? Scroll down below for details. But first, here's the official publisher's description of the book and some advance praise:
In this brutally honest collection of often cringe-inducing episodes, David Yoo perfectly captures the choke artist's cycle of failure and fear from childhood through adulthood. Whether he's wearing four layers of clothing to artificially beef up his slim frame, routinely testing highlighters against his forearm to see if he indeed has yellow skin, or preemptively sabotaging promising relationships in order to avoid comparison to former boyfriends, Yoo celebrates and skewers the insecurities of anxious people everywhere.

Advance Praise:

The Choke Artist is brilliantly sneaky. David Yoo is so funny that sometimes you forget he's writing about his (and America's) deepest, most basic fears. In a country that worships success, failure is taboo. Yoo embraces it head-on, his humor leavening yet never concealing the pain of not having enough faith in oneself. (Stewart O'Nan, author of The Odds and Emily, Alone)

I loved this book and couldn't put it down! It's raw, startling, laugh-out-loud funny—and ultimately about the irrepressible human spirit. (Amy Chua, Yale Law Professor and author of Battle Hymn of the Tiger Mother)

Reading The Choke Artist is like watching someone get kicked in the nuts - in a good way. Yoo makes us laugh and wince and relive the horrific, hilarious agony of being young. (Annie Choi, author of Happy Birthday or Whatever)

An admitted rug-humping, shrimpy, underachieving choke artist, David Yoo confesses his deepest darkest, hilariously unattractive and sadly relatable truths. And in turn, sets us all free. (Hilary Winston, author of My Boyfriend Wrote a Book About Me and writer for Community and Happy Endings)
Does that sound like a fun read? I'm giving away a copy of
The Choke Artist
to five lucky readers. To enter, just follow these simple steps:
First, follow
@angryasianman
on Twitter. Then tweet this message:
I want to win a copy of David Yoo's The Choke Artist from @angryasianman! http://bit.ly/chokeartist #aamgiveaway
. I will pick a some winners at random, and five lucky readers will get a copy of
The Choke Artist
sent their way.
Please, only one entry per person/Twitter account. Cheaters will be publicly shamed. The giveaway ends on Monday, July 9th, 2012 at 11:59am PST. Winners will receive a Direct Message with further information. This giveaway is open to U.S. residents only. Sorry, rest of the world.
Good luck. And if you're not feeling very lucky, you can go always go head and order your own copy of
The Choke Artist
from Amazon
here
. For further information about the book, visit author David Yoo's website
here
.