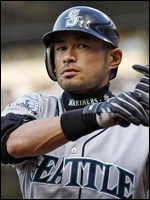 Whoa. It's the end of an era. The Seattle Mariners have traded outfielder Ichiro Suzuki to the New York Yankees:
Ichiro traded to Yankees
.
The veteran outfielder, ten-time Major League All Star, has played with the Mariners since his first season in America, way back in 2001.
But it looks like he won't be going very far -- the Yankees are playing a three-game series against Seattle, starting tonight. Will Ichiro play?
Yeah, that's going to be kind of awkward:
In a strange twist, the 38-year-old Japanese superstar won't immediately be leaving Safeco Field after being traded on Monday afternoon. Ichiro will instead make the short walk over to the visitor's clubhouse and don the uniform of the ... wait for it ... New York Yankees, who are in town to open a three-game series.

Seriously, the horde of Japanese media that has followed Ichiro around the country since arrived in America in 2001 could not have written it any better.

The bombshell news was first reported by Jack Curry of YES Network and later confirmed by a tweet from MLB. The Mariners will receive Triple-A pitchers D.J. Mitchell and Danny Farquhar in return for Ichiro and an unspecified amount of money.
Ichiro had apparently requested the trade several weeks ago. Man, after all these years, it's going to be weird to see him in a Yankee uniform. More here:
End of an era: Ichiro heads to Yankees after Mariners honor request for trade
.