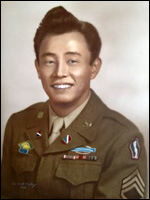 Incredibly tragic story out of the San Diego area... An 89-year-old man was killed last week when a runaway car slammed into his room at an assisted-living care facility in La Mesa:
La Mesa war hero survived wounds, not runaway car
.
Henry Hashiguchi experienced the injustice of the Japanese American internment, fought for the United States in World War II as part of the 442nd Regimental Combat Team, and was awarded a Purple Heart for getting wounded -- twice -- in combat.
After living through so much, it all ended in a freak accident involving a runaway Audi:
He was sitting in a chair in his room at 3:20 p.m. Tuesday when an Audi parked at the top of the hill rolled downhill for 260 feet, missed a tree and a fire hydrant, and crashed through the wall of Hashiguchi's room. The car hit his chair and knocked him to the floor. He suffered a broken leg and brain injuries and died later that night.

La Mesa police continue to investigate the crash and plan to send a report the District Attorney's Office for possible charges against the car owner. Police said he had turned the wheels into the curb, but failed to set the parking brake or put the car in gear.

West said the 24-year-old Audi owner has apologized to the family through the care facility.
Hashiguchi was one of the surviving members of the 442nd who recently received the Congressional Gold Medal. More here:
War Hero Dies After Unoccupied Car Hits Building
.