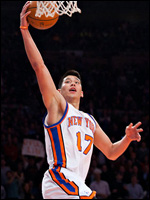 Hold up now. What's this? So what they're saying is that Jeremy Lin is visiting with the Houston Rockets this week:
Jeremy Lin to visit Rockets
.
As you know, Jeremy Lin is a restricted free agent with the New York Knicks. While it would be great if the Knicks offered Jeremy a nice fat four-year deal to make everyone happy, he could be lured away if another team makes an offer New York can't match.
According to sources, Jeremy will visit the Houston Rockets on Wednesday. And several other teams, including the Toronto Raptors, Dallas Mavericks and Brooklyn Nets, have reportedly expressed interest in him:
The Knicks can offer Lin a four-year deal worth $24.5 million. But another team can offer Lin a poison pill that could go as high as $40 million over four years. Such a contract would pay Lin $5 million in each of the first two years and then go as high as $15 million in each of the last two years.

Matching such a contract would give the Knicks four players -- Lin, Carmelo Anthony, Amare Stoudemire and Tyson Chandler -- making more than $14 million in the 2014-15 season. Those four players alone would have a combined salary of $72 million, nearly $2 million above the luxury tax.

While it may be doubtful that a club goes as high as $15 million in a season for Lin, even if one offered Lin roughly $10 million in the third and fourth years of a contract, the Knicks would be cautious about matching, according to a source.
Considering all the Knicks-related Linsanity fan gear I picked last season, I'm actually crossing my fingers that Jeremy sticks around New York City.
But with Landry Fields weighing a three-year offer from Toronto, is the NBA's nerdiest backcourt about to get broken up? More here: When It Comes to Re-Signing, Lin and Fields Have Other Suitors.