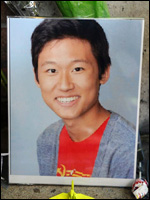 Catching up on some tragic news out of New York... Last month, a Manhattan high school student was killed when he was hit by a car in the Hamptons:
Manhattan prep school senior killed in Hamptons when he was struck by a taxi van
.
17-year-old Jeffrey Ahn Jr., a student at Trinity School on the upper West Side, was walking on the side of a narrow country lane with his girlfriend and two friends when he was struck by a taxi van. He was apparently clipped by the van's side mirror:
Detectives questioned the driver, Ladislav Smigura of Lindy's Taxi, and impounded the 2004 Ford Van he was driving. But they have not charged the 25-year-old cabbie with a crime.

Ahn's dad, head and neck surgeon Jeffrey Ahn, told Newsday he doesn't understand how his son was killed because they were walking in single file on Old Stone Highway in Amagansett.

"I don't know how a car can come from behind and hit this boy who was in the middle of the pack, walking in a single line," Jeffrey Ahn Sr., a surgeon at New York-Presbyterian Hospital, told the paper.

Smigura, who called 911 immediately after the collision, told investigators he clipped the teen with one of the van's mirrors.
Family and friends held a memorial service for Jeffrey Ahn last Tuesday in Manhattan. More here:
Cab kills A-student Jeffrey Ahn, Jr., in Hamptons
.