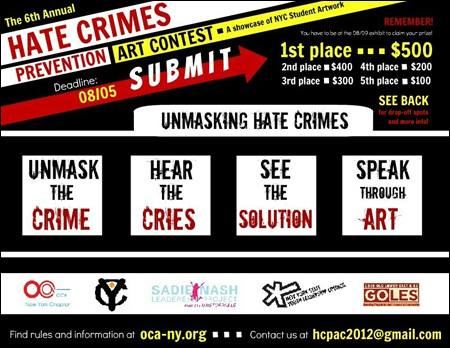 OCA-NY recently announced that they're accepting submissions for the
2012 Hate Crimes Prevent Art Contest
, aimed at raising awareness among youth about the cause, impact and prevention of hate crimes.
Artists are challenged to create a piece that examines this year's theme: "UNMASKING HATE CRIMES: Hear the Cries, See the Solution, and Speak through Art." Here's some more information about the theme:
This year's theme is "UNMASKING HATE CRIMES: Hear the Cries, See the Solution, Speak through Art." We highlight the individual processes of sight, hearing, and speaking as way of achieving an awareness of the sources, outcomes, and means to resolve hate crimes. We hope participants will challenge themselves and the audience by taking into consideration the following:

[HEAR] Why are hate crimes committed? What are the short-term / long-term impacts of a hate crime on the victim, perpetrator, and bystander?
[SEE] What are the sources of ignorance and prejudice? How can we as youth take action?
[SPEAK] Art is the method. What's YOUR message?
The contest is open to artists between the ages of 13-30. Cash prizes will be awarded to the top five submissions. The deadline is 5:00pm, August 5, so get to work. For rules and further information about the contest, go
here
.