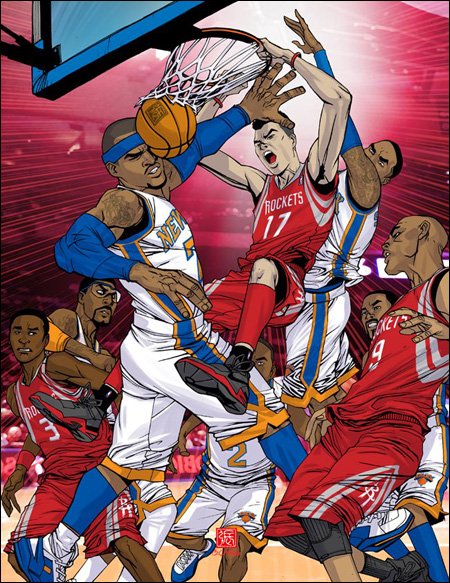 This awesome illustration is by artist Bernard Chang, who predicts "this will happen at least twice this upcoming season..."
Lin opens up about leaving Knicks: 'Honestly, I preferred New York'
: After experiencing the greatest year of his life, Jeremy Lin talks to
Sports Illustrated
about what led to him signing the dotted line with the Houston Rockets.
Dumb Move, Dolan
: Jay Caspian Kang asks the questions to understand why the Knicks let Jeremy Lin walk away from Madison Square Garden.
Knicks Drew the Line at Lin?
Really. After a history of overpaying everybody they could manage to throw money at, the Knicks decide to make their principal financial stand on Jeremy Lin?
The Knicks didn't match Jeremy Lin's offer sheet because owner James Dolan felt 'betrayed,' 'deceived,' according to report
: "Since the start of the "will they match/won't they match" drama, the talk around the Knicks was that the team's disinclination to bring him back had less to do with money than it did with Lord Jim's hurt feelings."
"Jeremy Lin That I Used to Know" Song Parody
: A silly song about losing your favorite player. Hey, let's see you try fitting "meniscus" into a song lyric.
With Jeremy Lin Exit, Some Asian-American Fans Feel Betrayed By Knicks
: "Bottom line: The Knicks' decision to allow the Houston Rockets to snatch Jeremy Lin is a gut-punch, the kind of soul-killing punk move that, in my personal opinion, shows zero respect for either the player or the fans he helped teach to believe again after years of wandering in the wilderness."
Jeremy Lin is the Houston Rockets' point guard, but how will he fit?
Now that Jeremy Lin is officially a Rocket, how will he fit with his new team, and what can we expect to happen to "Linsanity" in this new environment?
Jeremy Lin's Departure Teaches Knicks Fans Important Lesson About Getting Excited By The Knicks
: "Following the Knicks' decision Tuesday not to match the Houston Rockets' three-year, $25-million offer for point guard Jeremy Lin, depressed New York fans learned a valuable lesson about ever feeling even the slightest bit of excitement for their team."
Jeremy Lin's Knicks Departure Leaves a Slew of Angry Responses
: You can always count on an ugly internet mob and their ugly playground insults ("sellout chink") to make you lose your faith in mankind.
Lin. Sanity.
: And finally, a fantastic spoken word video by poet Giles Li, reminding us all what's so darn great about Jeremy Lin in the first place.