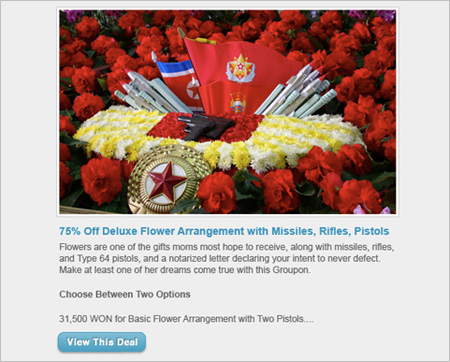 Groupon Pyongyang
: Conceptual artist Julia Kim Smith combines imagery from the official North Korean website and Groupon ads to create a unique Groupon for Pyongyang.
Top 5 Unsung Heroes of Japanese American History
8Asians serves up another good list, this time of heroes in Japanese American History -- with the promise of a list of women in the future.
The Feministing Five: Hari Kondabolu and Janine Brito
Comedians Hari Kondabolu and Janine Brito are writers for FX's new show,
Totally Biased with W. Kamau Bell
. Here, they discuss politicizing their comedy, white and male privilege, and the feminist they'd choose to take to a desert island.
To the Person Who Stole My Gordita Fund
Recently, Elizabeth Jayne Liu's car was broken into, and all her change and gift cards were stolen. At least she still has Kenny G.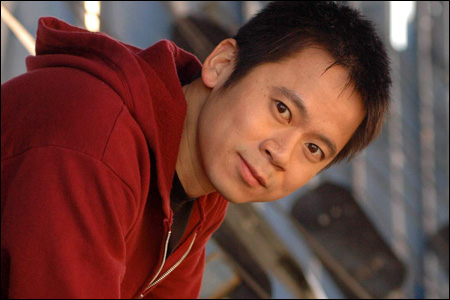 10 Comics to Watch: Sheng Wang Q&A
An interview with comedian Sheng Wang, on restaurants that bear his name, how he broke into comedy, and his worst experience on stage.
5 Questions With Philip Chung
Meet writer and co-founder of YOMYOMF Philip Chung. Hint: he does not like long walks on the beach.
The year of Asian Hipster Cuisine
Eight New York chefs cook up some "inspiration, ingredients, and attitude" with Asian eats.
Jennifer Chong, Pinterest's 2nd Most Popular User, On What Puts Pinners In A Tizzy
Didn't know that Pinterest had a most popular user? Neither did Jennifer Chong, until she saw an article about it with her name in it.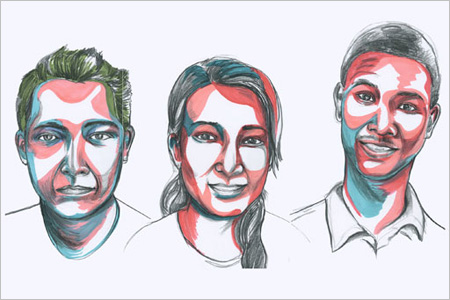 'We Are Not Illegal'
When three classmates were deported due to their status as undocumented immigrants, the students at Flushing International High School took action, forming a campus group called the DREAM team.
The Korean-American Story of Yes! Organic Market
"Organic grocery stores are expected to be found in more affluent areas in the country, but many places where people of color live have few food options." Gary Cha, who runs the eight Yes! Organic Markets in the D.C. area, is working to change this.
For mixed-race patients, few bone marrow donors
The complex genetic makeup associated with mixed-race patients can make it difficult to find a bone marrow match.
Timothy Wang's Olympic level of table tennis doesn't mean he can't help your garage game
Some advice from table tennis Olympian Timothy Wang... and strange product placement for Old Spice.