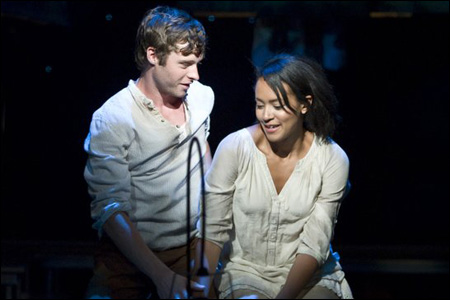 Controversy continues to brew over the significant
lack of Asian American actors
in the La Jolla Playhouse production of
The Nightingale
, a new musical from the creative team behind
Spring Awakening
:
La Jolla Playhouse gets heat from Asian Americans over casting
.
The Nightingale
is adapted from the Hans Christian Andersen fable set in ancient China... but the La Jolla Playhouse production features a mostly non-Asian cast, with the lead character, the Chinese emperor, played by a white actor. We've been down this road before.
Big props to actress Erin Quill, whose hilariously poignant
blog post
arguably jumpstarted this whole discussion. Our actor friend Greg Watanabe was recently on KPBS to talk about the controversy:
Casting Controversy Shadows La Jolla Playhouse's 'Nightingale.'
In response to the criticism, the company has scheduled a free talk-back session on Sunday afternoon following the matinee performance of
The Nightingale.
Community folks are planning on representing in full force. Here are some more details:
"Piece of Mind" Donation Drive to La Jolla Playhouse (or, "I'm bringing my ass to La Jolla to be kissed")

Sunday, July 22
3:45pm

The La Jolla Playhouse has invited the public to attend, free of charge, a post-performance panel discussion on the controversy(s) surrounding the mostly non-Asian casting of their current new work, THE NIGHTINGALE, based on the Hans Christian Andersen tale, set in China. This open forum will be held Sunday, July 22, at approximately 3:45pm (following a 2pm matinee), in the Potiker Theater.

At the present time, those scheduled to participate on the panel include LJP Artistic Director Christopher Ashley, Casting Director Tara Rubin, and actors Cindy Cheung and Christine Toy Johnson, of AAPAC (Asian American Performers Action Coalition). More speakers expected/TBA.
They're rallying folks to come out get heard. For more information and udpates about the talk-back session, as well as links to further discussion, here's a
Facebook event
. More here:
Racially Charged Casting Controversy Rocks Historic Theater
.