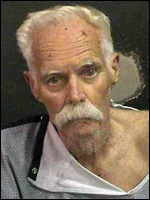 A while back, I posted about an 83-year-old man who was
charged with murder
in the death of his 94-year-old rehabilitation center roommate.
Last week, William Leo McDougall was convicted of killing Van Nguyen after beating him several times in the head with a metal rod:
Man, 83, faces life in prison in killing of 94-year-old roommate
.
McDougall apparently became angry at Nguyen for singing in Vietnamese. They were sharing the same room at the Palm Terrace Healthcare Center, where they were both recovering after hip surgery:
William Leo McDougall of Laguna Woods was accused of repeatedly hitting his roommate on the head because he thought the roommate was singing in Vietnamese, authorities said.

McDougall was recovering from hip surgery at the Palm Terrace Healthcare Center on Oct. 1, 2010, when he became angry with his roommate, Manh Van Nguyen, whom McDougall believed had begun singing in Vietnamese, according to prosecutors. Nguyen was also recovering from hip surgery. McDougall took a wooden rod from the closet in their room and hit Nguyen "multiple times in the head," authorities said.
Damn. McDougall, who is scheduled to be sentenced in October, faces up to 25 years to life. Like I said before, I don't care if you're 18 or 80. This was murder. More here:
83-year-old guilty of killing roommate, 94
.