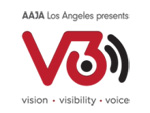 We're quickly approaching the
V3 Digital Media Conference
, a big ol' gathering of Asian American bloggers and online mediamakers happening next week, August 24-25 in Los Angeles. Interested in attending? I want to give away some free registrations. So listen up...
This giveaway is open to students.
So if you're a high school or college student, you're in the vicinity of Southern California (or you're able to get your butt to LA next week) and you want to attend V3, feel free to enter.
I'm giving away four pairs of free registrations so you can a friend can join in on the V3 festivities, which will include interactive panels, guest performers, and great networking opportunities. Here's how to enter:
Email me at angryasianman@angryasianman.com with your name, school, Twitter handle, and a short statement (100 words, more or less) about why you want to attend the V3 Digital Media Conference. Be sure to include
V3 GIVEAWAY
in the subject line.
Act fast! This is a flash giveaway. You have until
11:59pm PT on Friday, August 17, 2012
to enter. I'll pick four of the best entries, who will win a pair of free registrations to the conference. And then we can all hang out at V3.
Winners will be notified via email or Twitter direct message by Saturday, August 19. Like I said, this giveaway is only open to students, so don't lie. And please, only enter if you really plan on attending. No flakes allowed.
For further information about the conference, including the full schedule and lineup of participants, head over to the
V3 website
. See you there.