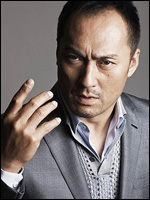 And today in badass movie news... A samurai version of
Unforgiven
? Hell yeah. None other than Ken Watanabe will reportedly star in a Japanese remake of Clint Eastwood's Oscar-winning western:
Ken Watanabe to Star in Japanese Remake of 'Unforgiven.'
Set in 1880, like the original film,
Yurusarezaru Mono (A Thing That Can't Be Forgiven)
sounds like it's going to be a pound-for-pound remake of
Unforgiven
, with the western elements -- a warrior with a violent past, one last job, an evil lawman -- switched out with samurai analogues.
I can already imagine it, and what I'm imagining is pretty darn cool...
Watanabe will play a samurai with a violent past, who lives on Japan's northern island of Hokkaido with his Ainu (the aboriginal people of the island) wife, but is brought out of retirement for one last job.

Koichi Sato (The Magic Hour) will play the Gene Hackman role, while veteran Akira Emoto (Villain) will take the part played by Morgan Freeman in the multi-Academy Award-winning original.
They've made some pretty noteworhty western remakes of samurai films over the years, but I don't know of too many going the other way around. More here:
Warner Japan to remake 'Unforgiven.'
Now if they could only find a way to put Ken Watanabe's samurai and Clint Eastwood's gunslinger in the same movie... I think I'd pass out.