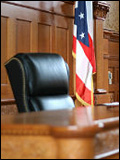 Another judicial appointment! President Obama has nominated Pamela Ki Mai Chen, an experienced Brooklyn civil rights prosecutor, to serve on the United States District Court for the Eastern District of New York.
The nomination marks a significant milestone. If confirmed, Chen would be the second female Chinese American judge in U.S. history and one of the first openly gay women on the federal bench:
Obama nominates Asian-American lesbian for federal judgeship
.
Here's more on Pamela Chen's background, from the White House press release:
Pamela Ki Mai Chen has been an Assistant United States Attorney in the Eastern District of New York since 1998, with the exception of a four-month period in 2008 when she served as Deputy Commissioner for Enforcement for the New York State Division of Human Rights. During her time at the United States Attorney's Office, Chen has held many supervisory positions, including Chief of the Civil Rights Section and Deputy Chief of the Public Integrity Section. From 1991 to 1998, Chen was a trial attorney in the Special Litigation Section of the Civil Rights Division at the United States Department of Justice. She began her legal career in Washington, D.C., at the criminal defense firm of Asbill, Junkin, Myers & Buffone from 1989 to 1991, and at the law firm of Arnold & Porter from 1986 to 1989. Chen received her J.D. in 1986 from the Georgetown University Law Center and her B.A. in 1983 from the University of Michigan.
They say that Chen is unlikely to go before the Senate for confirmation until after the presidential election. But with a track record that includes prosecuting human trafficking and hate crime cases, she's kind of a badass. More here:
Obama Nominates Gay Chinese-American to Federal Judgeship
.