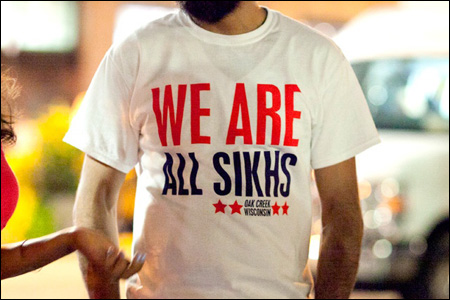 The White Terrorist at the Sikh Temple
: "With our country's growing diversity, it's more important than ever to battle the stereotypes that continue to burden America, and the likes of Wade Page."
What Is the Real Terrorist Threat in America?
: "Of the three hundred domestic-terrorism cases studied, about a quarter arose from anti-government extremists, white supremacists, or terrorists animated by bias against another religion. And all of the most frightening cases -- involving chemical, biological, and radiological materials -- arose from right-wing extremists or anarchists. None arose from Islamist militancy." Why doesn't the media cover these acts of terrorism? The
New Yorker
's Steve Coll explores this issue.
Why the Reaction Is Different When the Terrorist Is White

The difference in media coverage has less to do with the Sikh victims, but the white perpetrator.
But We're Not Muslims!
There is no such thing as "good" or "bad" minorities -- racism affects us all.
Two Sikh Men, Two Lifetimes Of Looking Different
: Meet Surinder and Rupinder Singh, a Sikh father and son duo on StoryCorps, who discuss the difficulties they've faced across generations.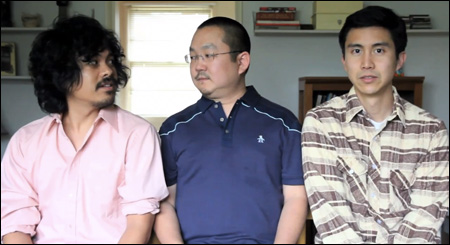 Secrets of Acting in Commercials with Aaron Takahashi
: What does it take to become a wildly successful commercial actor? Aaron Takahashi talks with the National Film Society to share the secrets he's used to land gigs with Snapple, Esurance, McDonald's and more.
The battle against whitewashing and racebending
: A nice breakdown of whitewashing and racebending, with examples from around the world.
Sexism, Racism, And Swimming At The London 2012 Olympics
: A spot-on article from Racialicious around Olympic swimmer Ye Shiwen and the allegations of doping.
Freak Out
: Hua Hsu on the disastrous downward spiral of San Francisco Giants pitcher Tim Lincecum, who is throwing one hell of a terrible season.
My Lola, the New American
: APALC legal advocate John J. Lopez writes about his 81-year old grandmother's citizenship ceremony, three decades after her arrival here.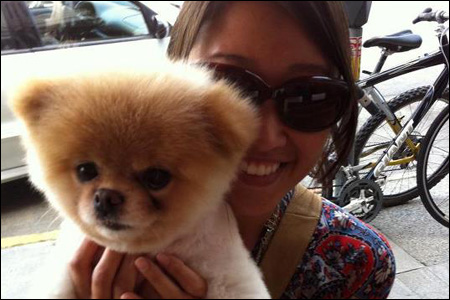 Boo, the World's Cutest Dog, Calls a Facebook Employee "Mom"
: Five million Facebook fans can't be wrong. Irene Ahn is mom to a 6-year-old pomeranian named Boo, the self-proclaimed "World's Cutest Dog."
At Home with Staceyann and Zuri
: A profile and interview with poet Staceyann Chin, who offers a candid perspective on being single, a lesbian, and a new mother.
Violence and Making Sense
: Jay Caspian Kang's novel
The Dead Do Not Improve
was borne out of an obsession with Cho Seung-Hi, the shooter in the Virginia Tech Massacre. Here, Kang discusses race and the Oak Creek massarcre.
San Francisco Chinatown: A Guide to Its History and Architecture: An Excerpt
: An excerpt of Philip P. Choy's book on the history of SF's Chinatown.
Historic Filipinotown Turns Ten: What's Changed?
: Elson Trinidad reflects on Historic Filipinotown's 10 years of existence, and offers some insight on what work still needs to be done.
K-Town by K-Town: A Jokbal Platter + Seoul Train + Partying in Rounds
: What useful lessons can we learn about the reality show
K-Town
? Well, where to eat, drink, and party in Koreatown, for one.