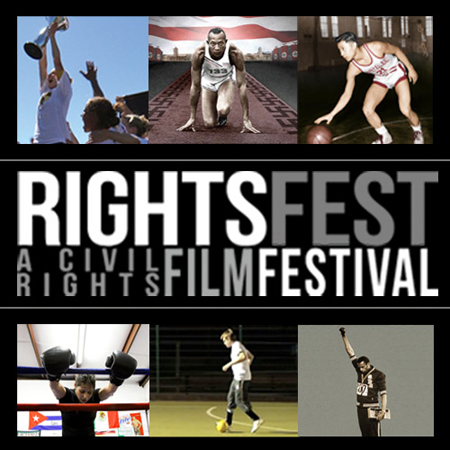 If you're in New York, you must check out the third annual
RightsFest 2012
, the Korematsu Institute's pan-ethnic civil rights film festival. This year's festival theme is civil rights and sports, and they've put together a great lineup of films. It's happening September 6-8 at Tribeca Cinemas in New York City. Here are some more details about the schedule:
RightsFest 2012: New York City
Theme: Civil Rights & Sports

Dates: September 6-8, 2012
Location: Tribeca Cinemas, 54 Varick Street, New York, NY

Thursday, September 6, 7-9pm

The 90th Minute, directed by Jun Stinson
Runtime: 24 minutes

Followed by Jesse Owens

The 90th Minute (2011) compels viewers to think about the way we value women's sports. More than a decade after the 1999 Women's World Cup, when players like Mia Hamm and Brandi Chastain inspired girls across the country to take up soccer, the Women's Professional Soccer league still struggles to survive.

Jesse Owens, directed by Laurens Grant
Runtime: 56 minutes
Preceded by The 90th Minute
Followed by a Q&A with the director

Jesse Owens (2012) delves beyond the sprinter's stunning four-time gold medal performance at the 1936 Olympics in Nazi Germany. The film tells the story of the son of a sharecropper who triumphs over adversity to become a world champion, only to be confronted by the harsh realities of celebrity.

Friday, September 7, 7-9pm

Transcending: the Wat Misaka Story, directed by Bruce and Christine Toy Johnson
Runtime: 40 minutes
Followed by In Her Corner and a Q&A with the directors

Transcending (2008) tells the story of Wat Misaka, the first minority basketball player to be drafted into the NBA. Amidst a hostile racial climate that incarcerated 120,000 innocent Japanese Americans during World War II, Misaka prevails as a top college basketball player who is ultimately drafted by the New York Knicks in 1947.

In Her Corner, hosted by Soledad O'Brien
Runtime: 43 minutes
Preceded by Transcending: the Wat Misaka Story
Followed by a Q&A with CNN host Soledad O'Brien

In Her Corner (2011) traces the journey of Olympic boxer Marlen Esparza. The 2012 Olympic Games are the first to allow women's boxing, the last female sport to be included in the world's most prestigious sporting competition. In Her Corner reflects the lives and many struggles of female boxers in this country.

Saturday, September 8, 7-9pm

Blind Ambition, directed by Chris Bridger
Runtime: 12 minutes
Followed by Black Power Salute

Blind Ambition (2011) introduces us to Simon Hill, a Paralympic soccer player who competes in England's blind football league. In the world of professional soccer, celebrities and endorsements often drown out individual stories of struggle and sacrifice. Blind Ambition is a refreshingly beautiful portrait of one man's pure love of the game.

Black Power Salute, directed by Geoff Small
Runtime: 59 minutes
Preceded by Blind Ambition
and followed by a Q&A with Olympic gold medalist Tommie Smith

Black Power Salute (2008) examines one of the most iconic sports images ever captured: the raised fists of two sprinters, Tommie Smith and John Carlos, as they receive their medals during the 1968 Olympics. With the world watching, this single gesture of courage forces the spotlight onto the harsh reality faced by Black Americans.
This is going to be a great event. Tickets are $8 per night. For further information about the films and festival schedule, and to purchase tickets, go to the Korematsu Institute website
here
and the Facebook event page
here
.