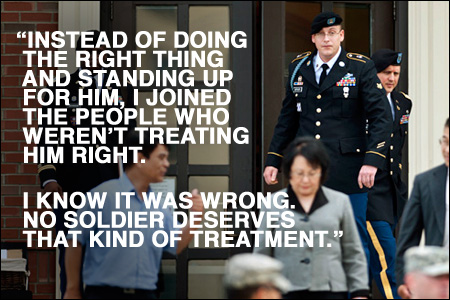 Another update on the Danny Chen case... Today at Fort Bragg, a second soldier facing court martial in connection with the death Pvt. Chen received a six-month prison sentence after pleading guilty to reduced charges:
Soldier pleads guilty to hazing Chinese-American soldier
.
Specialist Ryan J. Offutt pleaded guilty to one count of hazing and two specifications of maltreatment in the death of Danny Chen. In addition to prison time, he will be demoted to private and receive a bad conduct discharge:
At Fort Bragg, North Carolina, on Monday, Offutt admitted to charges of hazing and maltreatment and said his actions were cruel and unnecessary, according to base spokesman Thomas McCollum.

As part of a plea bargain, the government dropped more serious charges of reckless endangerment and negligent homicide, McCollum said.

Offutt, who faced up to four years in a military prison as part of his guilty plea, was sentenced by a military judge to six months of confinement, reduction in rank to private and a discharge from the Army for bad conduct.
Last month, Sgt. Adam Holcomb was found guilty of maltreatment and assault -- but
acquitted
on charges of negligent homicide, reckless endangerment, communicating a threat and hazing -- and was
sentenced
to 30 days in military jail, fined, and had his rank reduced.
Six more soldiers are scheduled to face courts martial in connection with Danny Chen's death in coming months. More here:
Offutt sentenced to 6 months prison, discharge from Army in hazing suicide case
.