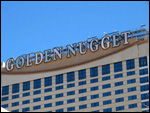 Daaaaaaang. Some casino patrons in New Jersey unexpectedly got one hell of a payoff when were dealt cards from an unshuffled deck, causing big headaches for the casino:
Golden Nugget suing card maker after unshuffled cards pay off big for gamblers
.
By the time all was said and done, fourteen players at a game of mini-baccarat at the Gold Nugget Atlantic City had racked up more than $1.5 million in 41 winnings hands.
The Golden Nugget says it was unshuffled deck, and is not only suing the playing card manufacturer, but also the gamblers, saying they unlawfully took advantage of the situation. The players, in turn, are suing the casino for their winnings. After all, they didn't do anything wrong:
"From the beginning to the end of play, however, plaintiff could not identify any particular act of those players that actually constituted swindling and cheating," the casino wrote in its lawsuit. Accordingly, it let nine of the players cash out $558,900 worth of chips. The other players still have $977,800 in chips that they have not yet cashed in.

The Golden Nugget also asserted in its lawsuit that Gemaco, Inc., a Missouri playing card manufacturer, acknowledged it had provided a defective shipment of cards that were not pre-shuffled. A message left at the company's administrative offices was not immediately returned Monday.

Three of the Golden Nugget gamblers have filed a counter-suit against the casino, alleging the gambling house discriminated against them based on their Chinese heritage. The three are from Atlantic City, Queens and Brooklyn, N.Y. One of them, Hua Shi of Brooklyn claims he was sleeping in his room at the casino when someone knocked on the door. When he answered, he was rushed by four Golden Nugget employees who pinned him against the wall and searched him and his belongings, according to his lawsuit. He said casino personnel held him in a room without food, water or an interpreter for eight hours. After a second search of his room, he was released, his lawsuit asserts.
I say let them keep their winnings. Hell, casinos like the Golden Nugget have been pumping cash out the Asian American community for years. Isn't it fun to see happening the other way around for a change?
Yes, I know there's not a whole lot of logic to that sentiment. Frankly, I'm just happy when anyone gets a chance to screw over a casino. More here:
New Jersey Casino Suing Gamblers Who Won $1.5 Million, Blames Unshuffled Decks of Cards
.